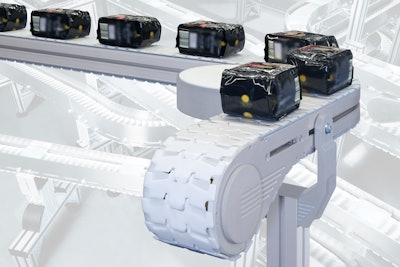 Bosch Rexroth's VarioFlow plus flexible chain conveyor system allows users to easily configure individual space-saving systems for versatile, complex transportation tasks—even for particularly difficult environments. The system aims to help users achieve a fast time to market.
Rexroth's VarioFlow plus offers various standardized modules covering differing application requirements with maximum interchangeability and modularity. To simplify selection and combination of the modules, Rexroth offers its MTpro planning software with Layout Designer. Users can design conveyors and even complex multi-conveyor and workstation systems, select components, and output the results to CAD. Additionally, time can be saved during commissioning. The drive system provides planning freedom, and the motor mounting position can be chosen on-site. This reduces the selection of drive variants.
With its low-noise operation the new chain conveyor system contributes to reduced noise and improved working conditions. Rexroth achieves this level of smooth operation by optimizing the conveyor sliding characteristics and using slide rails with lateral mounting, ensuring less wear and fast, reliable assembly.
Rexroth VarioFlow plus components can be used universally for all system widths, including the new track width of 120 mm, reducing the need for spare parts. Additionally, the stable chain permits tensile forces up to 1,250 N. The chain surface is nearly closed, allowing even the smallest parts to be transported safely and reliably.
The system offers individual conveyor layouts and is available in six sizes. It has two material options: a basic aluminum version and a stainless-steel version for applications with higher hygiene demands. The stainless-steel version uses components made of FDA-compliant materials.
Companies in this article