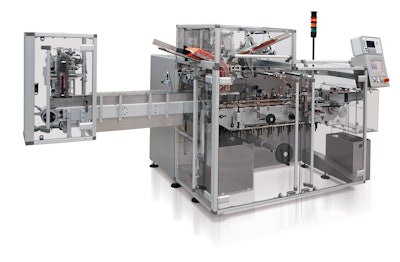 MG America introduces the Kartos I/100 cartoner designed for pharmaceutical, personal care, and cosmetic applications. The servo motor-driven, intermittent-motion machine offers a wide format range and a maximum output of 100 cartons/min.
Features of the Kartos I/100 cartoner include an ergonomic balcony design, a compact footprint, and fast, easy changeover that can be performed without tools.Additional benefits include positive carton forming and belt transmission.The machine comprises premium Allen-Bradley components and offers a programmable logic controller (PLC) as well as HMI.
Feeding systems for a variety of packaging formats are available for the Kartos I/100, including those for blisters, sachets, suppositories, tubes, bottles, trays, vials, jars, and flow-packs.
Companies in this article