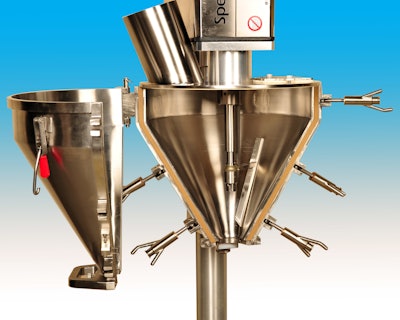 Spee-Dee Packaging Machinery Inc. is launching its new 20-gal Split Hopper, a powder filler for many applications including vf/f/s machines. The hoppers for these types of baggers are often several feet in the air, which makes changing tooling and cleaning very challenging. Each half of the split hopper is machined from stainless steel and is then hinged, enabling the hopper to split and swing open for easier access when changing tooling or during cleaning. Spee-Dee also offers a 16-gal version of the Split Hopper.
Another featured product is Spee-Dee's Revolution Series Auger, a quick-delivered machine for applications that need filling immediately. The Revolution Series Auger is manufactured and stocked at Spee-Dee's Sturtevant, WI, headquarters. When an order is placed, the appropriate column, stand, and tooling requirements are added to the auger, and it's ready to ship in four weeks, making it the ideal filler for f/f/s applications that need to get up and running quickly. Its simplified design makes the Revolution Series Auger a price-competitive option for dry-product powder filling in the pharmaceutical industry, according to the company.
Other filling machines include Spee-Dee's Sanitary Washdown Auger Filler, which can be washed down with FDA-approved cleaning agents at a water temperature of 160°F and water pressure of up to 250 psi. Spee-Dee's Sanitary Washdown Auger Filler prevents product corruption from outside sources as all mechanical connections and potential catch points are located outside the product contact area.
Companies in this article