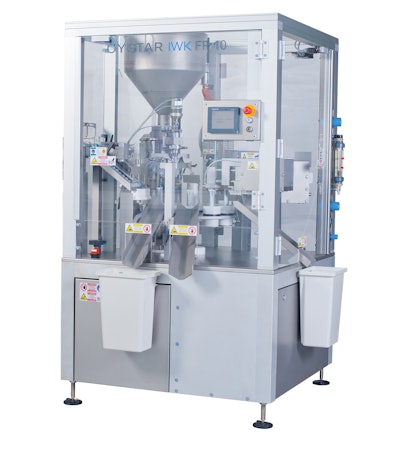 OYSTAR USA offers the new Oystar IWK FP 10 filling platform for the filling of metal, plastic, and laminated tubes at speeds of up to 70 cycles/min.
The high-production, ergonomically designed FP 10 Filling Platform's attributes include maximum process reliability through servo technology; accessibility from all sides; changeover in less than 15 min; and interchangeable format and product contact parts.
The machine can fill tubes from 60 to 250 millimeters in length and 10 to 52 millimeters in diameter (10 to 40mm for metal tubes) at volumes ranging from 1.5 to 350 milliliters.
The FP 10 uses a 5.7-in. HMI touchscreen panel, whose intuitive user interface displays all relevant process parameters. The HMI screen also provides changeover directives, counts good vs faulty tubes, shows user profiles, accesses tele-service via the Internet, and allows format data saving via USB.
The machine is designed for any pharmaceutical, cosmetic, or personal care product manufacturer that values performance and flexibility.
Companies in this article