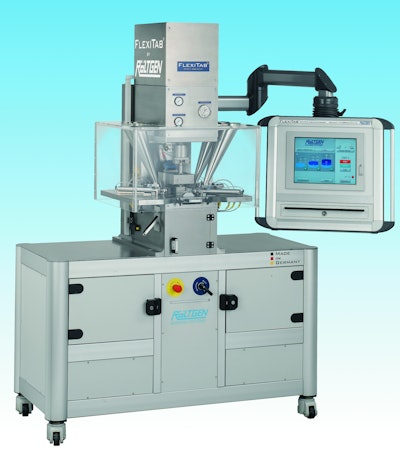 Pharma Technology Inc. (PTI), a specialty manufacturer of tablet dedusters and capsule polishers combined with metal detectors and loading systems for pharmaceutical solid dose production, is the exclusive North American distributor and service provider for Germany-based Roeltgen GmbH's FlexiTab® tablet presses.
The series includes the original FlexiTab, a freely-controllable single-punch press for use in galenics development and small-batch production applications; and the new manually operated FlexiTab S for pharmacy production including clinical samples.
Pharma Technology Inc. recently opened its first-ever U.S. headquarters in Piscataway, NJ. The office gives the Belgium-based company a direct presence in North America, one that will serve as the point of purchase, service, parts and maintenance for the FlexiTab line. PTI also provides spare parts and equipment maintenance programs from this new U.S. location.
The original FlexiTab is a single-station press using standard TSM B/D or EK0 tooling, which can be accessed directly from the compression area and exchanged simply in 5 to 10 min. The press can be operated in manual or automatic modes with quantities of powder as low as 500mg and as high as 1kg. The machine operates at forces of up to 100kN, and its design allows it to handle even the toughest substrates.
The FlexiTab Tablet Press can manufacture single-layer, bi-layer, tri-layer, and externally lubricated tablets. Standard features include upper and lower punch compaction force measurement, ejection force measurement, and upper punch displacement. The FlexiTab's data-acquisition software provides a detailed graphic representation of all parameters on a large touch screen, and an advanced reporting package allows for data transfer to PDF or ASCII file formats. Force profiles created to simulate rotary presses can be stored and recalled for future replication.
The new compact FlexiTab S is a portable, tabletop single-station tablet press that allows users to compress tablets quickly using only a few milligrams of powder, and without lengthy tooling set up times. The press can be operated manually or using a pneumatic compressor. FlexiTab S uses standard TSM B tools, employs up to 50kN of compression force, and has a maximum tablet diameter of ¾", meaning a wide range of testing requirements can be met.
Like the original FlexiTab, all product contact parts are made from easy-to-clean 316 stainless-steel material. This makes the FlexiTab® S an attractive option for pharmacy production projects, including clinical samples.
Companies in this article