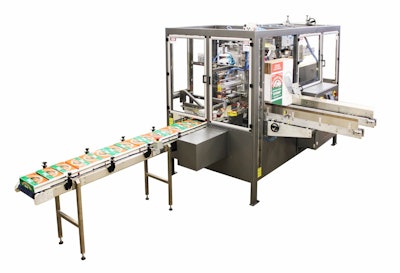 Eagle Packaging Machinery's BOXXER™ Case Erector Loader Sealer System is an automated solution that combines both case erecting and product loading. Designed to help increase productivity and lower labour costs, it meets various different pack patterns.
Product enters the BOXXER through an infeed conveyor. Once in the machine, the product is then stacked according to the pack pattern that has been chosen by the operator. While product is being stacked, a knocked-down case is pulled from a hopper and formed. After the case has been erected and the pack pattern has been met, the product is loaded with a servo-driven mechanism into the top, bottom, or side of the case.
The case then passes through a set of side-powered side-belt conveyors. During this process glue or tape (at the operator's discretion) is applied in order to seal the case. The case proceeds to the next station where the flaps are compressed and sealed. Finally, the case exits the machine through an exit-belt conveyor.
Companies in this article