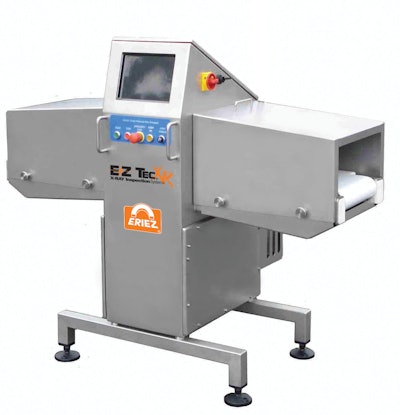 Eriez® introduces its new E-Z Tec® XR-Pack X-Ray Inspection System, specifically designed to provide protection for packaging applications.

The state-of-the-art system identifies contaminants, scanning for missing or broken products, and mass inspection, to guarantee users' product and packaging integrity. It effectively inspects for foreign objects (metal, glass, stone, bone and some plastics), count, seal integrity, weight, shape, item position, and presence/absence of items.

Features include tool-less disassembly for cleaning, unique beam geometry, compact 60-in. overall length, low profile design, and auto learn for easy set up. Eriez also provides online remote support for this equipment.

In addition to the E-Z Tec XR-Pack, Eriez also offers the E-Z Tec XR-Bulk X-Ray Inspection Systems for bulk flow applications, E-Z Tec XR-SS (side shoot) X-Ray Inspection Systems for upright packages and containers, and E-Z Tec XR-Clean X-Ray Inspection Systems for meat, poultry, and sanitary applications. The company will offer quick quotes for all of its standard next-generation X-Ray equipment.

Sign up here for online testing, participate in a webinar, or obtain additional information about Eriez X-Ray Inspection Systems.
Companies in this article