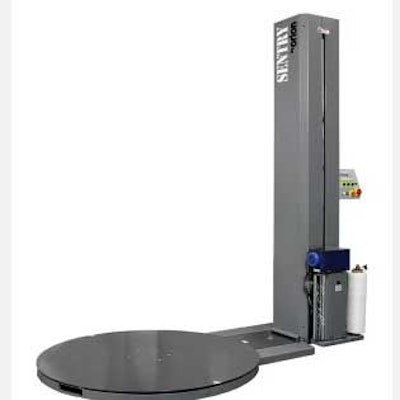 The Sentry provides customers with a quality, entry-level solution that unitizes pallet loads with stretch film for less than $6,999. The Sentry is capable of handling loads up to 4,000 lbs and a maximum size of 52" x 52" x 80" high. The Sentry will be unveiled at Pack Expo 2011, September 26-28, at the Las Vegas Convention Center, Las Vegas, Booth #1619.
"We are pleased to offer a new entry level, value-priced Orion machine with the same industry leading reliability that our customers expect from the Orion brand," said Steve Holland, Vice-President Sales, Orion. "Customers who wrap pallet loads by hand who thought they couldn't afford a quality stretch wrapping machine will be pleased by the features and benefits the Sentry offers, all at a suggested retail price that fits within the most conservative budgets."
The Sentry's low profile turntable can be loaded with a forklift or by pallet jack with an optional ramp. The Sentry unitizes approximately 20 to 30 loads per hour at a maximum 9 RPMs. A powered prestretch film carriage provides a stretch ratio of 200% on 20-inch stretch film to maximize strength and reduce film usage.
Other features of the Sentry include a variable carriage speed, automatic load height sensing, home position alignment, separate adjustments for top and bottom wraps and a user-friendly, multi-lingual control panel. The machine can be picked up and moved via forklift channels on both the front and rear for added convenience. Durable steel construction assures years of reliability in harsh industrial environments.
Orion
Companies in this article