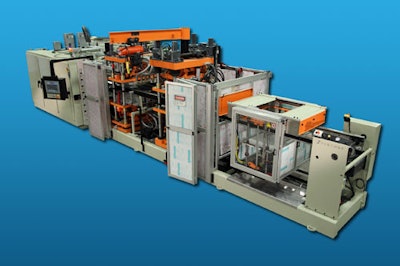 Brookdale Plastics
designs and manufactures custom life sciences and consumer packaging, and also provides custom thermoforming for industrial use. "We've provided custom clamshells, blister packs, and trays for more than 40 years," notes President and CEO Joe Meixell. "For our industrial customers we deliver close-tolerance, thin -auge solutions, including fragility packaging."
To meet increased customer demand, Brookdale Plastics was looking to add additional thermoforming capabilities. It has several thermoformers and can handle jobs ranging from 500 to 5 million pieces. It recently became the first to install the new 2500 Ultra thermoforming machine from
SencorpWhite
. "By adding the 2500 Ultra, we were looking to add capacity and additional capabilities to take advantage of business opportunities," Meixell says.
As an existing SencorpWhite customer, Brookdale Plastics expected a lot from the Ultra. "All but one of our thermoformers was a SencorpWhite system and we replaced that system with the Ultra," Meixell says.
After a month of operation with the machine, Brookdale is impressed. "We expected a lot and the Ultra delivered," says Brian Cerar, operation manager. "We're impressed with the speed and throughput - the Ultra ran our first job about 35-percent faster than we typically see."
"Watching those first runs, which might go 12 to 14 hours, I was impressed with how smoothly the Ultra operated at high speeds," says Meixell. With increased speeds, they can handle larger runs, Meixell adds.
In addition, the large forming and cutting area and increased tonnage of the presses are critical. "We custom thermoform a variety of materials, including PVC, HIPS, PETG, RPET, HDPE, and PP," Cerar explains. "The higher tonnage presses make it easier to work with some of these materials like RPET." The presses' longer stroke also allows Brookdale to look at handling deeper parts, according to Cerar.
Cerar notes that the Ultra's larger ovens with more programmable zones allow them to work with different custom shapes and longer tools. Additional key features included faster tooling changeover and better stacking and offloading. "The stacker is easy to set up and allows us to keep pace with faster cycle times," he says.
Companies in this article