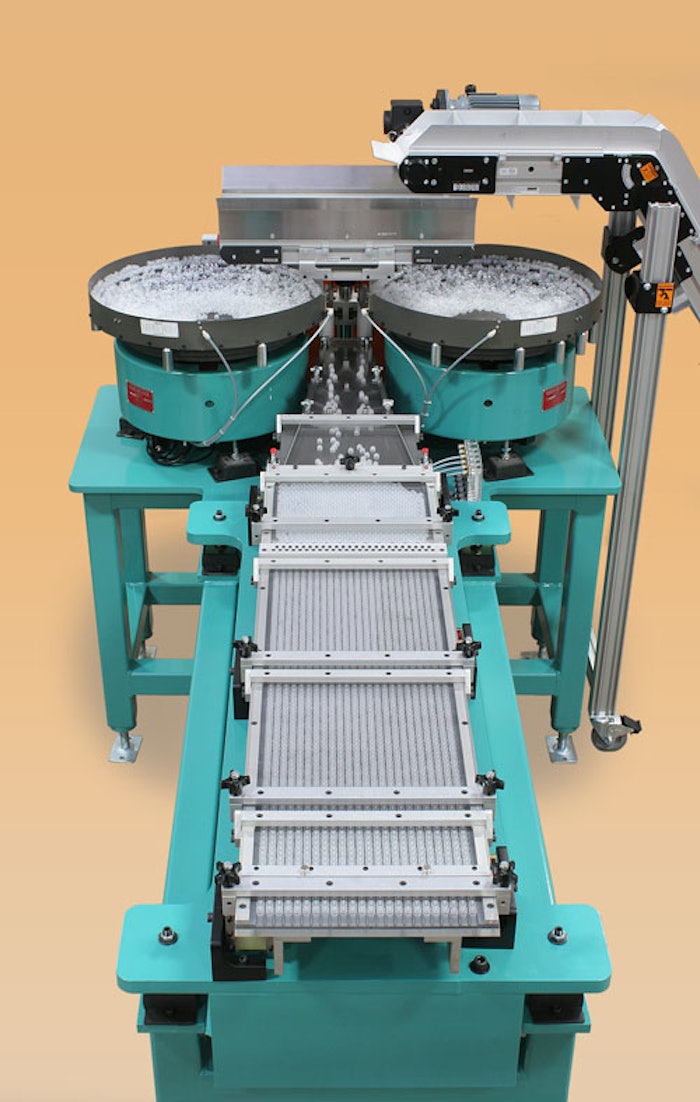 The space-saving multi-lane parts feeder from
The Arthur G. Russell Company
achieves excellence in customized product handling with an innovative, compact, multi-lane feed system that meets the criteria for projects requiring high-output within a limited floor space.
The quiet-running, patented Vibro-Block™ electromagnetic vibrator, a signature component designed by The A.G.Russell Company, sits at the heart of the multi-lane feeder to deliver a consistent, controlled product feed that achieves a well-orchestrated, high output product delivery across multiple lanes.
Vibro-Block technology allows Arthur G Russell to design feeders to accommodate products made of plastic, metal, glass materials or a combination of materials. "The modular design of the patented Vibro-Block technology allows the end user to fine-tune the amount and direction of the vibration. Used in conjunction with our variable frequency controllers, it affords the best possibility to achieve optimum feed-rates in a smooth and controlled manner" explains Rande King, Feeder Applications Specialist.
Although each feeder is custom engineered and tooled for the specific application, most A.G. Russell multi-lane feeders are configured either with an integral bin that presents product directly to each individual lane; or with a conventional bin that supplies product into one or more vibratory feeder bowls that then supply components to multiple lanes.
The A.G. Russell multi-lane feeder design is typically used in conjunction with an indexing chassis assembly system. The feeder can be integrated with the assembly machine to deliver the product by whatever means best suit the application. Most often parts are presented to the assembly machine by means of pneumatic escapements, rollover devices and pick and place mechanisms using vacuum pick-up heads or mechanical grippers. In instances in which space or access around the assembly machine is limited, vacuum-operated escapements can be supplied to deliver the parts to the assembly machine while maintaining the required pitch.
The custom-engineered, modular, multi-lane feeding system is adaptable to quick product changeovers and is suitable for use in large or smaller product runs. Optional screens and/ or vision systems are available for use in specialized applications such as product sorting and/ or product inspection for detecting size, shape and structural deformation.
Companies in this article