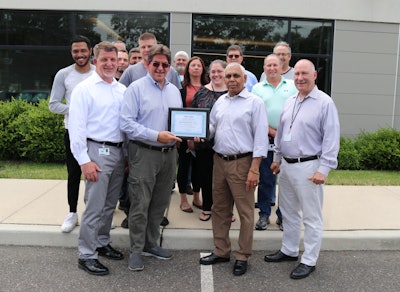 This content was written and submitted by the supplier. It has only been modified to comply with this publication's space and style.
Rondo-Pak, provider of folding cartons and printed components for the pharmaceutical, medical device, and consumer industries, announces it has attained certified vendor status with Genentech, a member of the Roche Group. This designation comes as a result of Rondo-Pak providing dozens of consecutive batches of material, totaling eight-million cartons, without a single complaint or failure. As a preferred supplier, the status signifies Rondo-Pak's consistent ability to provide supreme customer service, while minimizing cost, and maximizing efficiency for its customers.
In Fall 2019, Rondo-Pak and Genentech's Hillsboro Technical Operations (HTO) Facility launched an ambitious "Zero-Defect" initiative based on a shared vision for seamless delivery of secondary packaging material to the Genentech HTO manufacturing facility, home to a state-of-the-art fill/finish facility and warehousing and distribution center. From Rondo-Pak's perspective the project represented an ideal opportunity to merge the goals associated with an active Continuous Improvement culture with Voice of the Customer (VOC) guidance and alignment with Genentech HTO.
Both companies formed project teams drawing on talent from the Business, Quality, and Manufacturing segments of each organization to map out and execute a plan for a reduction in lead time, with a focus on providing Genentech HTO Incoming Inspection with 100% defect-free product. Over the course of nearly two years, each order manufactured by Rondo-Pak was subjected to rigorous inspection criteria established through the alignment on a well-defined Defect Library authored by both companies.
After the two-year long period with zero defects, the unique Certified Vendor status was granted, enabling Rondo-Pak materials to flow directly from Genentech HTO's Receiving to Manufacturing with minimal quality control interaction.
"Our partnership with Rondo-Pak has been quite a success with significant recorded savings for incoming quality control, receiving and inspection since the project's inception," said Ronald McIntosh, senior manager direct material procurement for Genentech HTO. "We have been able to reduce our standard lead time from receipt of packaging materials through final packaging by nine days and reduce inventory for safety stock based on this shorter lead time. Improvement in both metrics contribute significantly to our bottom line."
"At Rondo-Pak, it is our highest priority to be seen as a valuable partner in the pharmaceutical industry supply chain and we are proud to be considered one for Genentech," said Bob Reilly, president & COO of Rondo-Pak. "Through our joint 'Zero-Defect' initiative, our company has equally benefited, realizing a reduction in waste, improved throughput, and full alignment with a key customer in the larger Roche family."