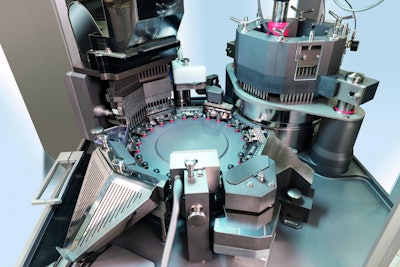 Reaping the efficiency benefits of automated filling and packaging technology can be challenging for manufacturers who process low volumes, where high-speed machines' capabilities are excessive and costly. Additionally, as we reported after Pack Expo Las Vegas in 2015, operator safety in pharmaceutical packaging is becoming more of a focus as small volume, potent drugs such as cytotoxics are developed.
Regardless of the drug being packaged—whether it's a supplement or cancer treatment—there are hazards specific to each formulation from an operator safety perspective, and proper safeguards must be in place.
The good news is that automation technology is increasingly becoming available at sizes and speeds appropriate for R&D and small batches, with safety features included. Bosch Packaging Technology's FLT vial filler is one such machine with a filler, stopper and capper that processes up to 30 vials per minute.
New for 2016, the FLT vial filler is now fully enclosed in an isolator, with double walls that offer protection for both the product and operator.
"Pharmaceutical manufacturers are increasingly moving away from conventional cleanroom technology and use isolators for the production of drugs to achieve maximum process safety," says Jochen Maier, sales support supervisor at Bosch Packaging Technology. "By combining the FLT vial filler with an isolator system, we provide a complete solution that ensures an improved aseptic environment. The isolator separates the filling process from the surrounding area. Operators and products are optimally protected."
To minimize downtime, the machine features an integrated evaporation system for hydrogen peroxide decontamination that automatically sanitizes the isolator chamber.
Because flexibility is so important for many small batch producers, the machine offers options for integration with process air handling or other machines, and can be combined with Restricted Access Barrier Systems (RABS). The FLT vial filler also requires minimal size parts and floor space, and can accommodate containers ranging from 2 to 100 milliliters.
Companies in this article