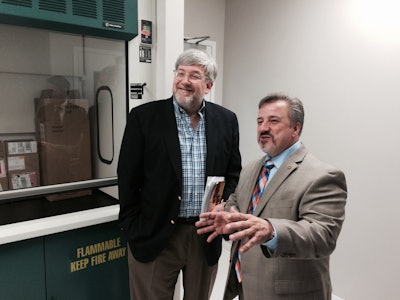 Klöckner Pentaplast Pharmaceutical Films Division officially opened the kp i.center March 31, 2015 in Charlottesville, VA. The state-of the-art facility combines collaboration rooms, customer offices and on-site tooling, and an Uhlmann thermoform machine for global pharmaceutical packaging professionals, including those in operations, marketing, and procurement, for both branded and generic products. Visitors will include project managers, business unit managers, and engineers.
"We see our customers' competitive landscape changing. Speed-to-market, product safety, and cost control are essential factors in them growing profitably around the globe," said Marc Setzen, Chief Technology Office, Klöckner Pentaplast Group, addressing local press from the Charlottesville, VA, area as well as industry publications Healthcare Packaging and Packaging World.
In conjunction with the opening of the kp i.center, brain child of Carlos Daniel Stagnaro, Director, Global Business Development for kp's Pharmaceutical Films Division, the company announced the expansion and rebranding of kp's BlisterPro® services, now BlisterPro® XCEL services. Click here for a link to download a BlisterProXCEL video.
With the extended services, kp is positioned as the only global film supplier to provide accelerated pharmaceutical product stability profiling through FreeThink Technology's ASAPprime® shelf life modeling software and ASAP laboratory studies. This affords customers a unique combination of product and packaging optimization benefits.
BlisterPro® XCEL services and the kp i.center change kp's positioning from traditional material supplier to value-added solutions provider in a market where end users are outsourcing more and more, especially when it comes to materials science.
Pharmaceutical companies from around the world, as well as contract manufacturers and packagers will be able to:
• evaluate existing package design and material
• drive new package design
• allow product expansion into new regions
• optimize product formulation
• improve production process
• facilitate switch-out from cold form to thermoformed packaging
Companies in this article