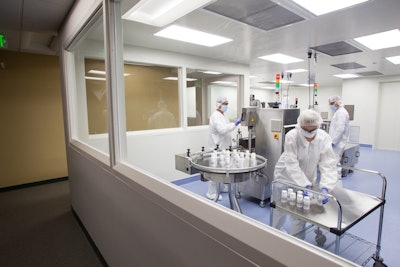 An automated bottling line is scheduled to become fully operational in November at Pharmatek's cGMP facility in San Diego.
Pharmatek Laboratories, Inc. is a contract development and manufacturing organization supporting the pharmaceutical industry. The company provides dosage form development and full-service pharmaceutical chemistry product development and manufacturing. The company focuses on bringing client compounds from discovery to the clinic with services that include compound selection, analytical development, pre-formulation testing, formulation development, GMP manufacturing, stability storage and testing, and cytotoxic and high-potency drug development.
The installation and qualification of the automated bottling line is part of Pharmatek's ongoing investment to support the increasing customer demand for larger-scale production.
The bottling line is designed to provide maximum flexibility for both small and large-volume clinical packaging projects. Developed by CVC Technologies, the line includes a Cremer electronic channel counter, capper, induction sealer, retorquer, and high-speed wrap labeler.
The system is integrated with a CVC electronic conveyor system and redundant quality inspection stations. Automatic bottling improves the efficiency and accuracy of clinical packaging, resulting in a reduction in overall costs and time-to-clinic. Additionally, the new bottling line significantly increases Pharmatek's overall capacity, allowing higher throughput and larger GMP manufacturing runs.
"Our investment in automated clinical packaging illustrates our commitment to our customers' need for strategies that streamline supply chain management and speed supplies to the clinic," says Pharmatek President Tim Scott. "This is an important enhancement to our offering, enabling us to continue to support our customers throughout their development program and into larger-scale operations."
Pharmatek offers primary packaging of tablets and capsules in HDPE bottles. The company supports secondary packaging, cold chain management, including storage and distribution, and stability testing. Complex labeling requirements, such as foreign language labels, blinding and booklet labeling.
Companies in this article