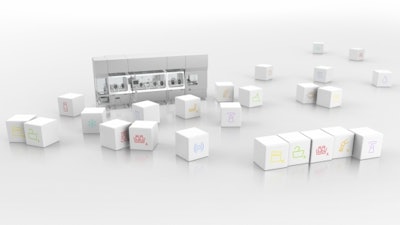 Pharmaceutical packaging lines are rarely purchased as off-the-shelf products—they typically require a significant amount of customization. The downside? Exceedingly long lead times. How can companies buy new machines that fit their specific needs, without spending years waiting in the design phase?
Standardized customization
At interpack, groninger debuted its "Business Line" machine series, where they've taken the best capabilities from existing, customized equipment and configured them into designed modules; the company describes this as their Ready Engineered philosophy. groninger sought to meet customers' challenges as their products become more specialized while requiring expedited time to market. "Depending on the customer's needs, new machines can be delivered in half the time, as early as six months," said Anita Meister, Team Manager, Marketing.
Part of the Business Line, the FlexCare 100 liquid-filling machine fills 60 to 120 containers per minute, depending on the diameter of the container, while FlexCare 50 and FlexCare 10 are available for smaller capacity in smaller footprints.
Tablet coating innovation
Meanwhile, other companies exhibiting at interpack are taking customer input into the design process itself. IMA Active is looking ahead to continuous solid dose processing with CROMA, the new continuous tablet coating equipment. Currently in development, the company is inviting feedback from industry to ensure the machine is innovative and meets customers' needs.
Industry 4.0
Many healthcare packaging companies referenced Industry 4.0/Internet of Things at their booths, discussing the potential for data-based decisions and predictive maintenance. Bosch Packaging Technology showcased how employees could perform maintenance activities even faster with Augmented Reality(AR) and AR glasses which enable instructions to be projected directly into the field of view, allowing operators to have both hands available for maintenance or format changes. They also highlighted the idea of virtual trainings, where employees learn on a simulated 3D machine. Without tangible products or services on the healthcare market yet, it remains more of a future concept than in, say, the oil & gas industry.
Companies in this article