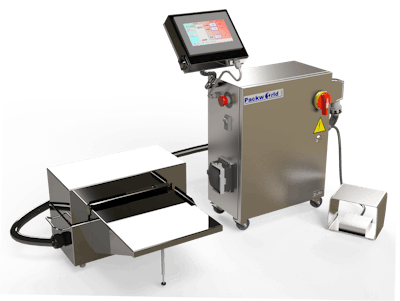 Packworld USA is showcasing its new remote sealer (PW4214) at Booth SL-6410 at PACK EXPO Las Vegas, incorporating a sealing head capable of accepting films up to approximately 13 inches wide and a divorced control cabinet with a touchscreen HMI.
According to Packworld's Brandon Hoser, the machine developed from the need to fit a more compact sealing head into a glove box. "Having the seal head separate from the controls/HMI allows the operator control access outside of the glove box while reducing the machine footprint inside the glove box."
This compact seal head design is ideal for use within laminar flow cabinets. Easy cleaning surfaces compliment biologics and tissue applications, while Packworld's touchscreen interface allows for 21 CFR Part 11 compliance. All Packworld machines are compliant with ISO 11607.
The PA-based company notes that an important differentiating feature of Packworld's heat sealers lies in the TOSS technology used—referred to as VRC (Variable Resistance Control)—which does not use thermocouples. Other heat sealers use thermocouples to measure and control the energy heating the seal bands, and a thermocouple's inherently slow characteristics, singular point of measurement, and consumable nature can create consistency issues. TOSS VRC technology "instead measures the resistance of the heat seal band throughout its entire length and width," Packworld explains. "It knows what resistance the band needs to be in order to achieve the seal temperature," resulting in quick, accurate, consistent heat seals critical for healthcare applications.
Companies in this article