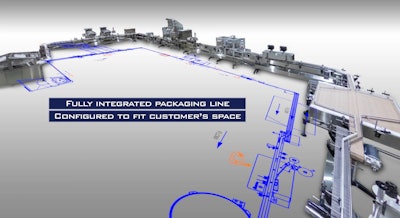 Provident Nutraceutical (Provident), a dietary supplement contract manufacturer, encapsulates powder into a variety of capsule sizes, which are then bottled in counts of 20 to 240. The company previously ran one bottling line for all types of products, such as capsules and tablets, out of its Steven's Point, Wisconsin location and sought to expand and increase its capacity. Expansion would allow for the implementation of another bottling line, which would not only increase capacity but also decrease the effects of downtime in the facility if one line were to go down while the other continued to operate.
The company turned to BellatRx­–a manufacturer of complete lines and packaging equipment for the pharmaceutical and nutraceutical industries, from whom Provident had purchased in the past.
"We did our due diligence of checking out a few different companies when looking into a complete bottling line and, in the end, we liked what BellatRx offered and we knew how they stand behind their product and the service they provide," says Eric Peterson, maintenance and project manager at Provident.
The company bought a complete bottling line, which included:
a Bell-Sort unscrambler to orient bottles in the upright position onto the conveyor
a reject station that removes bottles that are upside down or tipped over
an Rx-12 high-speed solid dose count system
a Tablet Elevator for feeding tablet counters, keeping the hoppers on the Rx-12 full
a metal detector purchased through BellatRx, which they integrated into the line for Provident
a Secure Star Capper that caps the bottles
a SL 50 neck-bander against tampering with a shrink tunnel
an accumulation table
and a BellatRx Wrap Labeler
Provident chose a complete line purchase, manufactured by one company, to ease troubleshooting, part replacement, and other machine concerns. The line was ordered early 2019 and arrived late Dec. 2019. Peterson travelled to BellatRx for a Factory Acceptance Testing (FAT). The line was then put into full production by early Feb. 2020, completely unaffected by the arrival of the COVID-19 pandemic, seeing as the company was considered an essential business. Rather the company saw a spike in sales because of the product produced.
Some fine-tuning was required at implementation to fix issues in getting bottles to run smoothly through the Bell-Sort, as well as some electrical minor issues. Peterson explained that Provident was especially impressed with BellatRx's service and communication provided with outstanding customer care, including the use of software with augmented reality capabilities. BellatRx sent technicians to install the line and troubleshoot, verifying all machinery was properly operational, and to provide team trainings for the Provident operators, such as working new recipes into the machinery.
Among the benefits of the BellatRx machinery, Peterson pointed out the toolless changeover for many of the machines, which allows for easier setup, teardown, and cleaning; as well as the benefits from a business standpoint of having two bottling lines running night and day, which has nearly doubled the company's output of bottles. Peterson further says that the machine operators appreciate the toolless changeover and training they received. Provident is in the process of installing an MES system which will allow for further benefits through data recovery off the line as much of the BellatRx machinery is already equipped with PLCs.
PACK EXPO Las Vegas and Healthcare Packaging EXPO (Sept. 27-29, Las Vegas Convention Center) will reunite the packaging and processing community, offering new products, technologies and solutions, while implementing up-to-date protocols for a safe and successful in-person event. Attendee registration is now open.
Companies in this article