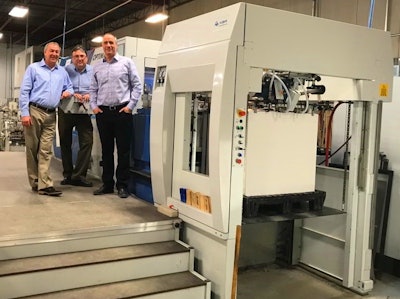 At its 60,000 sq-ft Mississauga, Ontario facility, Ellis Paper Box focuses on folding carton production for the pharmaceutical industry. In recent years, however, the company detected trends that collided with the facility's production throughput.
For example, new legislation enacted in Canada deemed that all pharmaceutical boxes must be redesigned to include additional compliance information for plain English text. Ellis has worked with its clients to increase the size of the folding carton or add a fifth panel to existing styles to accommodate this legislation. Also, its over-the-counter packaging is being designed with more value-added properties, such as inline cold and hot foil, embossing, inline Braille, and specialty matte and high-gloss coatings.
Part of the company's strategy to become a "one-stop shop" is the ongoing addition of new equipment, which now allows it to produce quantities as few as 500 cartons with spot colors to as many as five million eight-color specialty work quantities with inline inspection. With its international clientele, a variety of languages imprinted on the boxes is no problem due to the firm's 100% inline carton inspection systems.
Fitting into that strategy was last summer's purchase and installation of a new Optima 106 K die cutter from KBA-Iberica Die Cutters, a subsidiary of the Koenig & Bauer Group. Ellis Paper Box's purchase was part of the Ellis Group's investment in new automated high-speed die cutters across its three facilities. Another new die cutter purchased from KBA North America is planned to be installed at a sister facility, Ellis Packaging, later this year. The Ellis Group organization has three facilities, all centered amid the Toronto, Ontario region.
Multiple benefits
"The KBA-Iberica Optima 106 K die cutter has become our workhorse in the die-cutting department," says Dave Ellis, President. "It is capable of handling production of paper, cardboard, plastic and corrugated boards up to 1.5mm. It is running at 8,000 sheets per hour. We currently operate it two to three shifts per day, five days a week. Our preference is to schedule all jobs containing detailed embossing and critical print to cut registration on this new machine."
Beyond these benefits, Ellis has recorded the machine's efficiency and savings, recognizing a 63% increase in throughput and a 32% increase in run speed compared to the last six running months over the previous machine. This allows Ellis to provide faster speed-to-market and get its product to its customers in two weeks or less. The die-cutter has also reduced its make-ready work by 20% to 40% reduction in make-ready due to the Optima 106 die cutter. Another benefit: Ellis is also blanking more difficult jobs, reducing its yearly stripping costs by $35,000.
"The improvements to our die-cutting department have been staggering," says Ellis. "Due to the Optima 106 K's increased automation, there are less tools involved and our employees are pleased with its push-button automation. Our quality has improved due to this new die cutter and we have no downtime because the machine is so dependable. Improvements to uptime and quality have resulted in an improved bottom line. The new die cutter from KBA-Iberica has had a fantastic impact on our company."
Prior to signing the order, Ellis looked very closely at its other options and conducted extensive research into four other die-cutting manufacturers before narrowing idecision to two. The team considered price, the manufacturer's commitment to service and quality, and last but not least the return on investment. Ultimately KBA-Iberica and its Optima 106 K machines prevailed.
Ellis and his management team have set high business goals for his firm's future. "Five years from now The Ellis Group will be the largest manufacturer of folding cartons in Canada," he says. "It's due in part because we listen carefully to our clients to understand what drives their business. We have learned a lot about the challenges they face, from considerations in package engineering through to distribution issues. We recognized that to be truly different from our competitors, we needed to provide services that not only meet but actually anticipate and solve these challenges. When a customer describes our firm, they use words such as quality, service, and value."