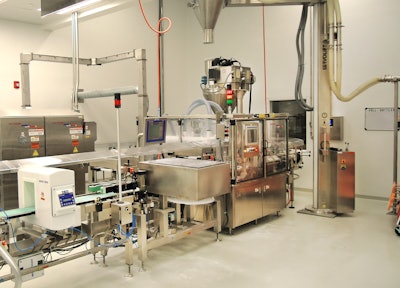 Pharma Tech Industries a global pharmaceutical contract manufacturers and packagers of powder products, introduced a new high-speed bottling line for the production of Rx, OTC and nutritional ingestible products at its Union, MO facility.
Featuring several units from production equipment manufacturer PneumaticScaleAngelus, a member of the Barry-Wehmiller family of companies. The line includes unscrambling, filling, checkweighing, metal detection, capping, induction sealing, bundling and case packing equipment. It can reach filling speeds of up to 300 bottles/min, with a bottle size capacity of 5 in. in diameter and 10 in. in height.
The new bottling line is housed in a new, specially-built ISO 8 Class 100,000 controlled environment designed for non-sterile Rx pharmaceutical-grade oral products.All equipment is of modular, quick-change design to enable minimal downtime between campaigns.
The addition is part of Pharma Tech's recent expansion at its Union, MO production facility. The multimillion-dollar investment has added about 55,000 sq-ft of manufacturing space, bringing the facility's total area to 155,000 sq-ft. Included in the expansion is another high-speed bottling line, as well as a 20,000-sq-ft building housing an analytical/microbial lab and additional warehousing space.
"Adding this specially tailored, high-speed bottling line is an example of Pharma Tech's willingness and ability to adapt to evolving customer needs," says Tee Noland, Chairman and CEO of Pharma Tech Industries. "Pharma Tech takes great pride in growing and enhancing its manufacturing and packaging capabilities, as we build upon our record of high quality and seamless service to all our customers."
Companies in this article