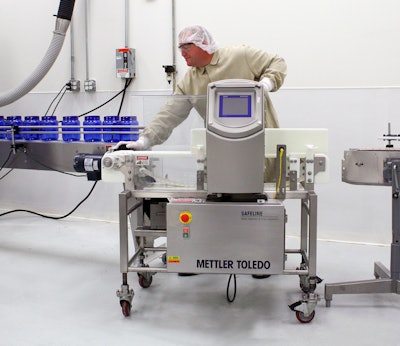 Imagine meeting with a prospective packaging equipment supplier late one afternoon and then using a modified machine from that vendor in an actual production run the next day. Sound too good to be true? Not for Sun-Pac Manufacturing, a Tampa-based custom contract manufacturer of vitamins, minerals, herbal preparations, and other dietary supplements.
Since its inception in the year 2000, Sun-Pac has invested in state-of-the-art equipment to produce premium quality product. In 2012, the company searched for a new metal detector that would maximize detection sensitivity while handling their wide range of products. They contacted Mettler-Toledo Safeline and, thanks to a coordinated team effort, got a new customized PowerPhasePRO metal detector installed and operating within 24 hours.
"We had been inspecting tablets and capsules with a metal detector prior to packaging and wanted to add a new metal detector to inspect finished product. We talked with a number of suppliers and were most impressed with Mettler-Toledo Safeline," says Gary Henderson, president and CEO of Sun-Pac Manufacturing. "We had a new job coming up and urgently needed to accommodate the customer. We contacted Safeline and within 24 hours, we had a metal detector that Safeline customized for our application."
Sun-Pac needed a metal detector that could handle packaged products ranging from 120 cc to 4 lb in size. The company also needed a stainless-steel unit and a conveyorized system that was mobile so it could be moved easily from one place to another within the plant. The PowerPhasePRO metal detector they selected meets those needs and achieves superior detection sensitivity. It features high-frequency coil technology and advanced head geometry that detects all types of metal contamination, from common ferrous and non-ferrous tramp metal to the most difficult to detect stainless-steel fragments.
"When we first called Mettler-Toledo Safeline, we didn't realize they were also in Tampa, Florida. We were simply looking for the best metal detector for our plant," says Ellen Cummings, plant manager. "When they learned that we were in Tampa, they suggested we come over. It was an amazing experience."
"Theresa Henderson from Sun-Pac came to our office at 3 p.m. and told us what they needed and how important this project was to their organization. It was an unusual application, but we had something in stock that could be modified to meet their needs," recalls Geri Foley, metal detection sales manager at Mettler-Toledo Safeline. "Since it was close to end of the business day and I knew the modifications were going to take some time, I ran onto our shop floor and said to our team, 'nobody leave.' By 7 p.m., we had stripped the stock unit down, customized it, and reassembled it. We loaded it on a truck that night for delivery. The system was installed and operating at Sun-Pac the next morning."
Sun-Pac's operational efficiency
Sun-Pac operates 11 manufacturing lines and eight packaging lines at the 48,000 sq-ft production facility in Tampa. The packaging lines are semi-automatic, with laborers assisting automated machinery at various points to help maximize production flexibility and allow Sun-Pac to handle small product runs economically.
"When we started Sun-Pac, we were focused specifically on satisfying customers that needed small product runs," says Henderson. "Now, we're handling large product runs too, but we're still focused on working with start-up companies and helping established companies that are launching new products. Those 5,000- and 10,000-count bottle runs, which other contract manufacturers have a hard time fitting into their production schedules, are easy for us. We're known for producing high-quality products in a timely manner for customers that require small-to medium-size runs."
Sun-Pac does not operate all eight packaging lines at once. At most, two or three jobs reach packaging during each of the manufacturer's two daily shifts. The ideal location for the metal detector depends on the product that is being packaged. Sun-Pac's PowerPhasePRO is a stand-alone, conveyorized metal detector on castor wheels. If the product running has an induction-sealed cap, the metal detector is rolled into place to inspect prior to sealing. When there is no metal in the cap, the metal detector is moved into position to inspect finished product.
"It's not feasible for us to have eight metal detectors, each dedicated to one packaging line. We wanted one metal detector that was versatile enough to handle all our products, and that's what we got with the PowerPhasePRO," says Theresa Henderson, managing director. "When we reached out to Mettler-Toledo Safeline, we expected to get great technology and great service because that's what they're known for. In reality, our experience far exceeded our expectations."
Benefits include uptime, flexibility
To achieve the greatest detection sensitivity across its range of products, Sun-Pac's PowerPhasePRO metal detector operates with two frequencies to automatically accommodate product variations. To maximize sensitivity while virtually eliminating false rejects, a "Faraday Screen" filters out signals from two-way radios and variable-frequency drives that can interfere.
"The PowerPhasePRO is extremely easy to set up and operate," notes Cummings. "When we've got a new product, the detector's auto-learn function makes that initial set-up easy. After the detector learns the product, the parameters are stored in memory. During product changeovers, the operator simply chooses the next product code from the metal detector's touchscreen control panel and it's ready to go."
"Ultimately, we measure the success of the metal detector on its effectiveness in detecting metal because providing customers with the highest level of quality is the most important thing to us," says Gary Henderson. "From a production perspective, we also care about uptime, flexibility, sanitation, and ease of use. The Safeline metal detector has impressed us in every way. And of course, the customer service we received was out of this world."
Companies in this article