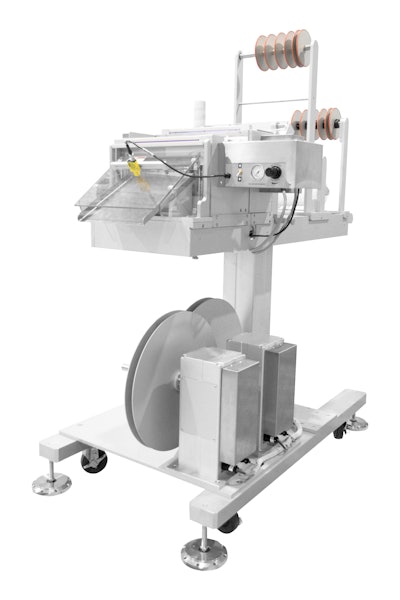 This content was written and submitted by the supplier. It has only been modified to comply with this publication's space and style.
The Azco blister cutter provides different sizes of blister cards without expensive tooling or long changeovers. The module unit easily integrates with any blister machine. Material enters it as a continuous web, and shear-cut slitters slit the material to the proper width. An optic sensor tracks the blister, so cross cuts are in the proper location.
The blister cutter is free standing. Place into position, plug into 110VAC/220VAC, and connect an airline. No integration is required. The cutter also offers toolless changeover. Slide the slitters to position for the width, and enter number of blisters for cutoff.
The key features and benefits of the blister cutter include:
Seamless integration: The assembly seamlessly integrates with both new and existing equipment, enhancing production capabilities without machine modifications.
Precision cutting: Equipped with shear cut knife assemblies, the system achieves precise cutting of blisters, ensuring consistent quality and accurate sizing.
Enhanced safety: The custom assembly incorporates clear safety covers, enabling product flow through the knife assembly while maintaining a safe working environment for operators.
Operational alerts: The integrated light tower provides visual and audible alerts, keeping operators informed about the system's status and ensuring smooth operations.
Adjustable and durable: All the components are securely mounted on a 12.7-mm thick aluminum plate, further reinforced by an adjustable equipment stand with a hand crank for added convenience and stability.
"Eliminating the need for tooling to cut blister cards to size is a significant breakthrough in how blister cards are made and processed," says Andrew Zucaro, president of Azco. "We are proud to provide a solution that addresses the industry's need for precision, efficiency, and safety. Our custom assembly empowers businesses to streamline their operations and achieve exceptional quality control."
Companies in this article