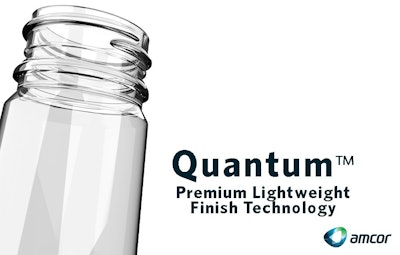 Amcor Rigid Packaging's Quantum™ two-step, lightweighting technology for polyethylene terephthalate (PET) bottles delivers sustainability benefits, lowers cost, and improves packaging appearance.
By removing more than 50% of the material and weight from the finish, the Quantum™ technology reduces manufacturing costs and GHG emissions, resulting in energy savings and lower carbon emissions compared to bottles with a traditional finish. Quantum™ technology also allows for up to 100% recycled material use.
"Our customers and consumers alike are looking for ways to support the circular economy and eliminate waste, and our engineers have developed a new technology that meets their needs and advances more sustainable packaging," says Terry Patcheak, vice president of R&D, sustainability and project management at ARP. "We're helping our customers support source reduction, reduce material use, and reduce weight, which means a lighter and more sustainable package."
Initially developed for the spirits industry, the Quantum™ optimized finish technology can be used for packaging in multiple segments, including healthcare, home and personal care, food, and dairy.
Companies in this article