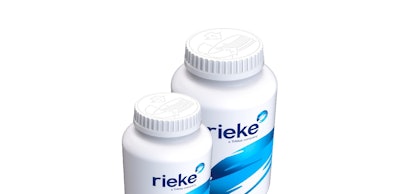 Rieke, a TriMas Packaging brand, has expanded its range of child-resistant caps and closures to protect future generations while working toward achieving global sustainability targets. "Our new two-piece push and turn child-resistant caps range features our innovative patent-pending interlocking inner/outer cap design—to ensure convenience for seniors and an added level of difficulty for children to open," explains Ron Kieras, director of new product development – closures at Rieke.
Rieke has also defined ambitious sustainability goals for itself. And it was with these key factors in mind that the new child-resistant caps—available in 53mm and 63mm diameters—were designed with less plastic, reducing its carbon footprint without compromising on quality, durability or functional performance. The caps are also available with a post-consumer recycled (PCR) inner cap option which delivers an even more sustainable solution.
"Our child-resistant caps are compatible with both PET and HDPE bottle materials, fitting CMA standard 53-400 and 63-400 neck finishes. This is the perfect solution for manufacturers and distributors of nutraceutical products, including nutritional supplements," confirms Kieras. Pictorial instructions on the cap clearly illustrate how to open and close it, making it ideal for international use.
Companies in this article