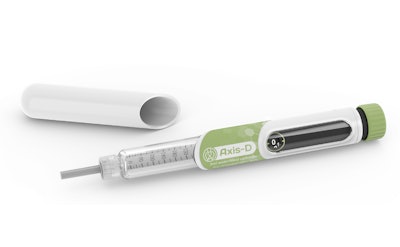 Stevanato Group, an Italy-based producer of glass primary packaging and provider of integrated capabilities and solutions for combination products, and Haselmeier, a Switzerland and Germany-based developer and manufacturer of self-injection devices, announce an exclusive agreement to license the Axis-D pen-injector technology and intellectual property (IP) in the Therapeutic Area of Diabetes Care.
The Axis-D pen-injector was designed and developed by Haselmeier together with its partners; a version of this pen-injector is currently on the market today, having been launched and approved for use, among others, by the European Medical Agency (EMA) and the US Food and Drug Administration (FDA).
Stevanato Group plans to utilize this technology and IP to provide a new pen injector to support the needs of diabetes patients around the world. Once the design for the device is finalized, it will be produced at one of Stevanato Group's manufacturing facilities based on the company's tooling, molding, and assembly expertise. Sub-assembly and final assembly equipment will be provided by Stevanato Group operations in Denmark.
Frédéric Gabriel, chief innovation officer at Haselmeier, says: "We are pleased and proud to have Stevanato Group as our strategic partner for Axis-D in Diabetes. Stevanato Group has demonstrated in past years a consistent development strategy coupled with unique integrated capabilities and is able to leverage Haselmeier's pen injection platform to bring it to the next level. Such platform has already been proven in the market, from an IP, performance, and user perspective. It also demonstrates Haselmeier's strategic orientation to exploit its IP over various paths, either with its' own development and manufacturing capabilities or together with a strategic partner."
Says Paolo Patri, chief technology officer at Stevanato Group, "We value our relationship with Haselmeier as a device technology partner. With this agreement, we continue to expand our portfolio of devices for patients suffering from diabetes. This complements ongoing work on our award winning 1ml cartridge-based wearable device, which will give our biopharmaceutical partners the opportunity to provide patients with both standard and alternative treatment solutions with such devices. "
Companies in this article