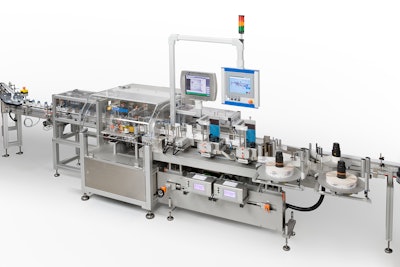 Herma US, the subsidiary of Herma GmbH—a Germany-based provider of labeling machinery and self-adhesive labels and materials to the global packaging marketplace—introduces upgrades and faster delivery timelines for its Herma 132M Wrap-around Labeler. The machine is now available with motion control, designed to evenly ramp up and tamp down speeds for improved product handling, which is particularly useful for fragile containers such as glass vials. Herma 132M can also be delivered to North American customers within 12 weeks of order.
Designed to handle up to 400 products per minute, the turret-based machine features a rotating star wheel made for precise product transport. The company says it can be outfitted with a wide range of printing and vision systems, and includes automatic rejection of out-of-specification labels before they are applied.
The Herma 132M's modular design is versatile and allows the machine to be customized economically and cost-effectively for individual needs. Users should be able to easily adapt the module to various product formats in a few easy steps, according to the company.
One major ability the Herma 132M is meant to achieve is smoothly accelerating and decelerating, in order to lend to improved product handling and protection, particularly for glass containers and those containing sensitive solutions.
Companies in this article