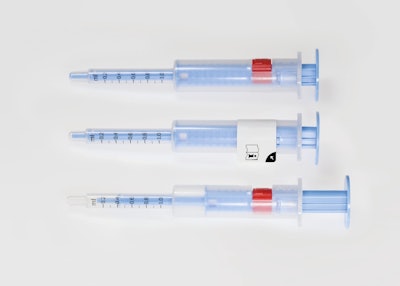 Schreiner MediPharm, a Germany-based global provider of specialty pharmaceutical labeling products, has designed a protective label for a syringe system developed by polymer specialist Raumedic. The dosing syringe label supports exact dosage measurement of a medicine for children as part of a clinical trial. Potential dosage errors of the medication and false trial outcomes can thus be avoided.
Based on commonly used oral syringes for volumes of 1-, 5- and 10-mL, Raumedic's dosing system reduces the risk of dosage errors through an adjustment button that fixes dosages upon first use. To prevent the button's unintentional early activation, Schreiner MediPharm's protective label wraps around the syringe and completely covers the button. The result: the label functions as a visual barrier to the adjustment button, preventing healthcare staff from accidentally activating the mechanism prematurely.
Since the button becomes visible only after the initial dose has been drawn up and the label opened at the starter tab, accidental activation prior to this process is deterred. Upon opening, a simple press locks the button, which presets the correct dose for subsequent administrations. Additionally, the label includes a reference to the user directions that should be read before fixing the dose.
The design posed initial challenges for Schreiner MediPharm's Clinical Trial Services team. The multilayer label had to ensure ease of use and be optimally adapted to the shape of the syringe. A specific stiffness and adhesion of the label was also required. The tailored dosing syringe label enhances the safety of handling the dosing syringe and helps avoid dosage errors. This increases patient safety during clinical trials, supports medication compliance and addresses potential sources of error in risk assessment.
Companies in this article