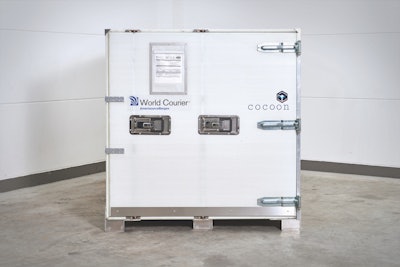 World Courier, the global provider of specialty logistics and a part of AmerisourceBergen, provides packaging for pallet-sized shipments designed to reduce transport costs and maintain temperature up to 40% longer than comparable products.
The passive pallet shipper, called "Cocoon," marks the first packaging innovation from World Courier's Climate Optimization Research & Engineering (CORE) Labs—a science-led and data-driven solutions center launched in 2015 to help pharmaceutical manufacturers make informed packaging decisions.
Composed of honeycomb vacuum-insulated panels, Cocoon weighs 15% to 30% less than comparable packaging products, covers Euro and U.S. pallet sizes, and supports three temperature range requirements: -15° to -25° Celsius, 2° to 8° degrees Celsius and +15° to +25° Celsius.
The vacuum-insulated panels, coupled with Cocoon's-phase change materials, provide a high level of thermal protection and stability for temperature-sensitive pharmaceutical products throughout long-distance deliveries. For example, a Cocoon packaging solution maintained its internal temperature throughout a two-week delivery from Austria to Baghdad, Iraq, which included 10 days of storage in uncontrolled warehouse temperatures.
Cocoon, which requires no external power source during transit, offers transparent qualification via World Courier's CORE Labs. The CORE Labs solutions center aims to help pharmaceutical manufacturers evaluate, validate and select the right climate-controlled packaging for their specific needs.
Backed by World Courier's global network of experts and resources, the center also leverages testing results and real-world data to recommend the right packaging and right transport route. The collaboration is meant to help shippers maximize cost savings, time efficiencies and product security.
Companies in this article