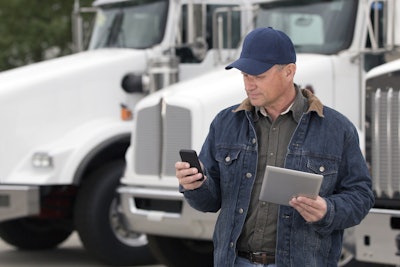 BluJay Solutions, a provider of supply chain software and services powered by the Global Trade Network, has acquired Blackbay Ltd. Blackbay is aprovider of mobility-enabled solutions for the transport and logistics industry. With the acquisition, BluJay expands its mobile offerings with comprehensive shipment tracking and proof-of-delivery capture.
"Intelligentmobility solutions have become an indispensable part of delivering a world-class experience for our customers and their customers," says Doug Braun, CEO of BluJay Solutions. "Adding Blackbay to our Global Trade Network is a highly valuable and ideal extension of BluJay's offering, expanding customers' visibility into the supply chain and each stage of delivery."
Nigel Doust, CEO of Blackbay, says, "We are thrilled to be a part of BluJay Solutions, whose global reach and approach to delivering value is a perfect match for our team. BluJay brings market-leading transportation management, warehouse management, and customs management to Blackbay's customers, and provides the scale to take full advantage of Blackbay's transformational mobility solutions."
Blackbay's scalable and configurable platform connects the shipper, operations, management, the driver and the end-customer with real-time data and automated workflows that uniquely address the "last mile" of the supply chain—widely recognized as the most complex and challenging aspect of the industry.
With an ecosystem of supply chain software, services, and the first Global Trade Network, BluJayunlocks the power of more than 40,000 universally connected partners so companies can achieve greater trade velocity, transform their supply chain economics for disruptive advantage, and see beyond the horizon to optimize their future in the global economy.
"Blackbay's mature and flexible Delivery Connect platform will provide our more than 7,500 customerswith exciting new mobile workforce management, track and trace, and workflowcapabilities," says Doug Surrett, BluJay's Chief Product Strategist.
Blackbay, headquartered in the U.K. with offices in Australia and New Zealand, will fully integratewith the global BluJay team. The two companies have partnered for nearly a year with a significant customer in Asia using the world-class mobility platform.
Braun adds, "Blackbay'steam membersare highly motivated, customer focused, and forward thinking. We look forward to learning from them and continuing to execute on our global vision together."