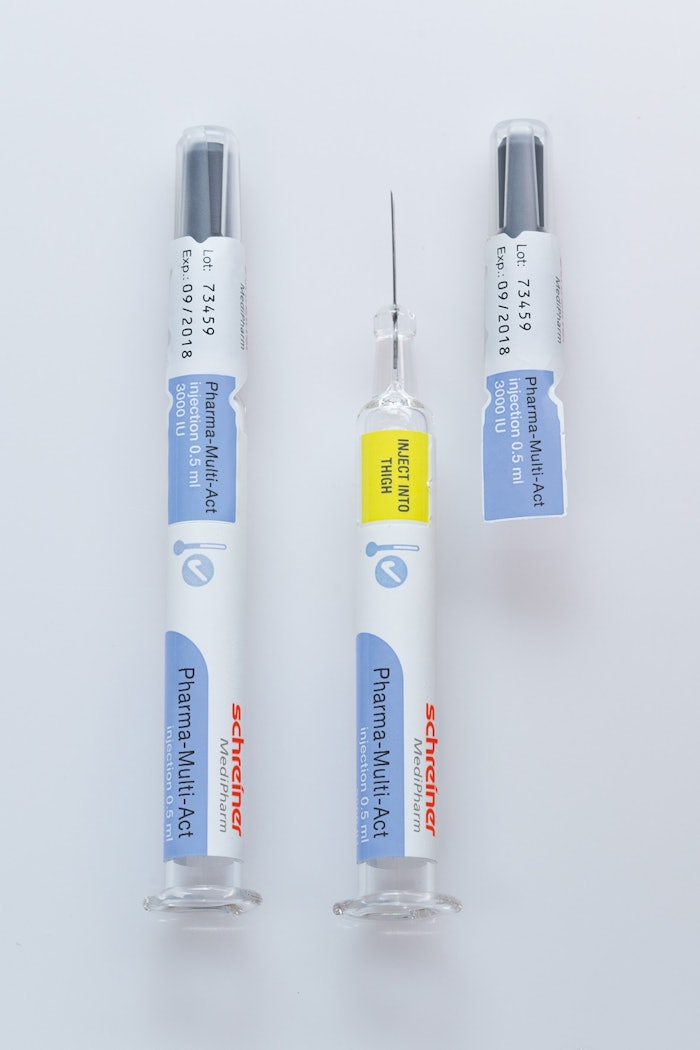 From Schreiner MediPharm, Pharma-Multi-Act presents a novel marking solution for syringes. The label, together with the cap, is easy to open with a flick of the wrist, making it user-friendly. Pharma-Multi-Act also offers reliable and irreversible first-opening indication and may include various additional security and indicator functionalities.
Pharma-Multi-Act is unique in that it includes a label-integrated perforated tab that ends on the syringe cap. The marking label's first-opening indication is automatically triggered along the perforation when opening the cap. As a result, the label and the container are opened at the same time by a single flick of the wrist, without requiring another step to remove the seal.

Syringes require special tamper protection solutions that can be activated fast and effectively without impairing the injection process: the fewer moves needed and the simpler the activation, the better. In many cases, it is also necessary to document the administered medicine in the patient's file or vaccination card.

In the process of opening Pharma-Multi-Act, a readily accessible, detachable documentation label is exposed on the cap, which can be easily peeled off, even with gloves. The area underneath the detachable label can be used as an indicator field for various functions. Examples range from an initially covert warning message, an additional security feature for authentication, an integrated NFC chip for interactive applications through to a temperature or UV indicator that is activated by opening the label.
Companies in this article