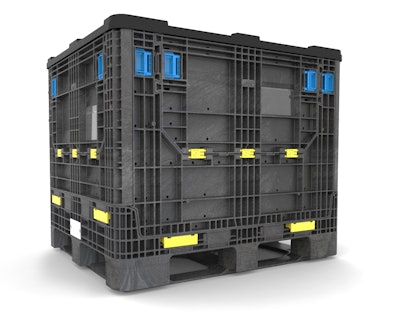 ORBIS Corp., an international manufacturer of sustainable reusable packaging, features the collapsible all-plastic BulkPak® reusable container for use in the European market.
Designed to European dimensions and produced in Europe, the HDB1012 BulkPak heavy-duty plastic bulk container holds up to 900 kg and is a substitute for metal bins. It collapses when empty for return trips, allowing for more containers per standard truck compared with noncollapsible steel tubs.
The HDB1012 BulkPak system was designed to better protect and transport parts in global automotive and industrial applications. As part of the ORBIS BulkPak fleet, the HDB1012 series is engineered as a strong and durable container for industrial parts packaging and other heavy-duty applications requiring increased packaging protection. The HDB1012 BulkPak offers logistics advantages, warehouse cost-savings and an environmentally friendly alternative to steel tubs, wood pallets and crates.
This advanced BulkPak container system is structural-foam molded in high-density polyethylene (HDPE) for durability and product protection. It can be fully recycled at the end of its service life, making it an environmentally friendly packaging option.
ORBIS BulkPak containers collapse and stack securely together, allowing European companies to maximize their freight efficiencies while minimizing warehouse space needs and reducing returned transportation costs during storage and return shipment. Enhanced reparability features allow for easy on-site repair, if needed.
The HDB1012 offers multiple identification options to meet customers' specific material handling and supply chain needs. It is available in four heights, providing further freight savings through optimization of the supply chain with pack density and part packaging. Customizable configurations of the BulkPak access doors and bottom styles accommodate a wide range of material handling equipment, storage and shipping needs.
Additional benefits include:
• Reduced return freight costs with a higher ratio of collapsed bins versus noncollapsible steel bins
• All-plastic material is easy to clean, does not rust and won't harbor pests, mold or fungus
• Lower total cost of ownership for an attractive return on investment
• Enhanced reparability features deliver easy on-site repair
• Large access doors provide excellent interior access and greater ergonomics for operator safety
• Improved versatility with multiple heights (582mm, 732mm, 870mm and 980mm)
• Full-stringer or three-stringer bottom with zero, one or two access doors
Companies in this article