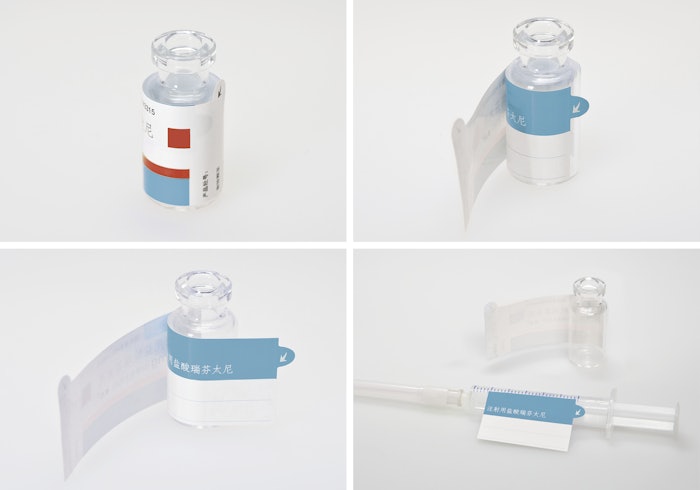 Schreiner MediPharm has introduced a new version of its Pharma-Comb SL (Self-Lifting) label with a special starter tab.
Originally developed for a leading producer of anesthetics in China, the special label design is particularly easy to use on small vials, allowing efficient and reliable marking of medication while simultaneously increasing patient safety.
Pharma-Comb labels are specialty labels with one or several detachable parts on which important data is printed to make the information transferable.
The small vial size posed a special challenge for the new version of the Pharma-Comb SL label. Despite minimal space, the label must contain all pertinent product information, provide room for variable post-printing, and integrate a detachable part to mark a disposable syringe once the anesthetic is drawn from the vial.
This newly developed product is based on a three-layered film label. The outer layer offers ample space for important product information and post-printing with batch number and expiration date. When opening the outer layer, which tightly wraps around a small vial, the detachable part underneath is exposed. Due to its special design, the starter tab of the detachable label part is self-lifting.
As a result, the physician or nurse can easily peel it off—even with gloves on—and mark the syringe after drawing medication from the vial. This detachable label contains information including product name and active ingredients, and also has two fields for entering the dosage, date and time of administration, and the initials of the physician or nurse. Thanks to a useful varnish coating, the detachable label can be inscribed by hand in pen or pencil.
Companies in this article