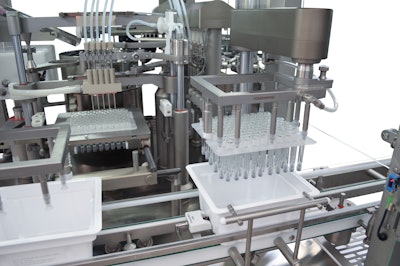 The Marchesini Group's Extrafill model is a filling and stoppering machine for nested syringes, developed to meet the growing demands of packaging disposable prefilled syringes in the North American marketplace.

This syringe filling line-up is compact and designed to accommodate from two to five stoppering stations.The final outcome is a machine capable of producing 12,000 pieces/hour with precise batching operations, thanks to systems that center the syringes and completely protect them during the filling process to avoid contamination and to ensure a sterile process. Extrafill is equipped with peristaltic filling pumps and an innovative statistical check by-batched weigher, which offers economical and technical benefits compared with traditional solutions.

All the production phases are integrated in one monobloc designed to combine the two tub opening and syringe filling/stoppering operations under just one isolator. Once loaded on the machine, the tub passes under the system that heats the lidding edges. The tub then passes under the opening station where a robotic arm peels off the Tyvek® protective film and pushes it onto a loading belt to continue toward the filling and stoppering stations.

The robot features a gripping system that moves just like a human hand. It is the outcome of research and development activities carried out by Marchesini Group to innovate the automatic machinery industry. Both the mechanical and software of the delidding (peeling) systems were developed with the aim of devising a robotized system capable of handling the product with outstanding efficiency in sterile conditions.


Companies in this article