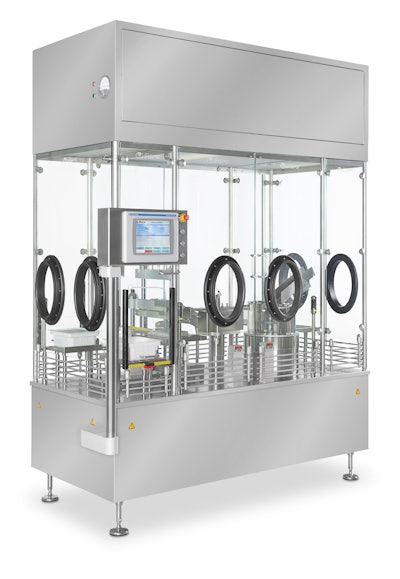 NJM Packaging introduces the Dara SFL Syringe Filling and Plugging machine, an aseptic filling and plugging system for syringes or vials in a nest or tray. Dara can equip the modular Dara SFL with an isolation barrier or restricted access barrier (RAB) and a peristaltic pump or valve-less rotary piston pump to meet the needs of each customer. With its servo motion controls and high-quality engineering, the Dara SFL offers consistently accurate filling and plunger insertion, fast and simple changeovers, low maintenance, and the flexibility to easily add new package and tray formats.

Suitable for pharmaceutical and biotech manufacturers, the compact Dara SFL features entrance and exit pass-boxes where operators load and remove nests or trays of syringes or vials. This aseptic manufacturing system fills and closes up to 35 units/min if equipped with one filling head and one closing head, and up to 80 units/min with two heads each, based on a 1-mL fill, within a footprint 72-in.-long and 36-in.-wide. It accommodates glass and plastic syringes with fill volumes from 0.5 to 20 mL and vials with fills volumes from 0.5 to 50 mL.

Recipe-driven changeovers can be achieved in less than 10 minutes with no tools required, thanks to the five servo motors and Allen-Bradley programmable controller and color touchscreen. The versatility of the Dara SFL also enables users to add new formats to handle a different package type and/or size with a different tray configuration. It can be changed from a one-head system to a two-head system in the field, enabling it to expand as users' needs grow.

In addition to an isolation barrier or RAB, a peristaltic pump or rotary piston pump, and a one-head or two-head system, options include a clean-in-place (CIP) system, a sterilize-in-place (SIP) system, and gas flushing.
Companies in this article