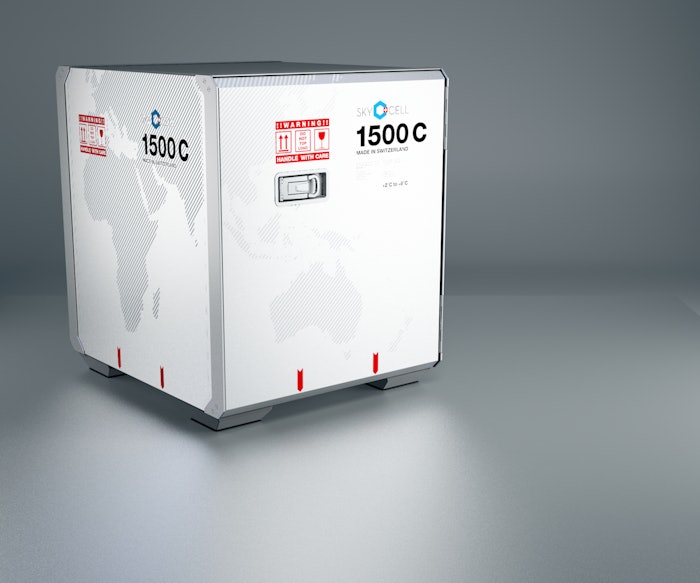 SkyCell has launched the 1500C, a second container size for high-value, 2°C to 8°C shipments. It can be loaded using a U.S. pallet, or with 1,500 L of volume, and complements SkyCell 770C with its 770 L payload, which is suitable for high-value, low-volume shipments.
SkyCell's containers have been specially developed for door-to-door shipments to emerging markets, with a special focus on LATAM, the Middle East, and Asia. They are always supplied ready to use and rented one-way worldwide.
The 1500C and 770C protect products from long exposure to extreme heat and cold, which could range from 65°C on the tarmac in Dubai to −35°C in Alaska.
SkyCell combines its proprietary cell-based insulation technology with fail-safe phase-change cooling technology, which recharges the container when it is in an environment colder than 5°C. It enables the container to be stored at 5°C for extended periods of time; for example, when awaiting customs clearance in Sao Paulo, Brazil, or Jeddah, Saudi Arabia. SkyCell's longest shipment to date has been 31 days, enabled by the auto-recharging capability in an ambient temperature of 5°C.
With its SkyCell Transport Planner, SkyCell offers an online tool to simulate the trip and take advantage of the auto-recharge technology. This aids the risk-based decision-making and lane validation processes.
The container is super-lightweight, boasting 1.5 m³ of usable internal volume (3.23 m³ external volume) with a weight of less than 500 kg. A two-layer door closing system has been developed for fast and safe loading.
Companies in this article