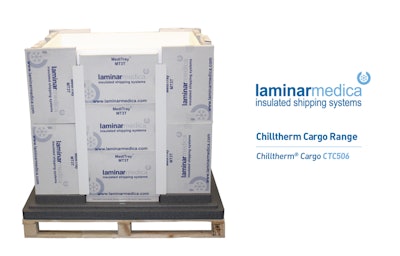 Laminar Medica announces the launch of a new range of bulk packaging systems designed specifically for the transport of temperature-sensitive pharmaceuticals in aircraft cargo holds. The Chilltherm® Cargo range features all-new Lock & Load™ wall panel assembly design for the effortless assembly and loading of full pallet-sized payloads.
The Chilltherm Cargo system has been specifically designed for life science customers, by life science customers, for the transportation of high-value temperature-sensitive bio-pharmaceutical therapies, bulk actives, and clinical specimens.
The product range features several unique characteristics, including a dual layer self-supporting structure using lightweight insulation materials (advanced EPS graphite foam and PUR foam board), eliminating the need for additional paperboard sleeves. The combination of wall panel design and modern insulation materials provide robust construction that promotes re-use, fewer components, reduced weight, and thinner walls to increase useful product space with a quick and intuitive assembly process.
There are three aircraft skid compatible payload sizes in the initial launch, including 1302 litres (1/4 PMC), 2772 litres, and 3664 litres (1/2 PMC). The range has been adapted and qualified to meet different regional temperature profiles. The product uses Laminar's standard-size leak-proof gel pack, MediTray™, that provides a controlled release of the cooling energy across the inner wall of the shipper, without freezing the sensitive product load.
A variety of end-user training resources and accessories have been produced to further enhance the products thermal performance and extend its life during reuse.
Companies in this article