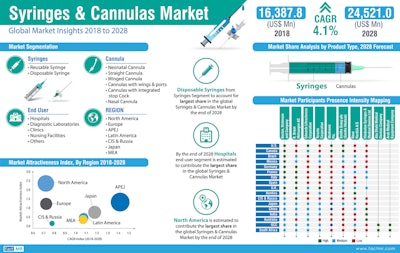 An above-average rise at 4% volume CAGR is foreseen for the syringes & cannulas market over the period of forecast, 2018 to 2028, according to a new Fact.MR study.
North America remains the most remunerative market for syringes and cannulas, however the emergence of Asia-Pacific excluding Japan (APEJ) as a medical tourism hub has paved abundant opportunities for manufacturers of syringes and cannulas.
(The American Heritage® Medical Dictionary defines cannulas or cannulae as "A flexible tube, usually containing a trocar at one end, that is inserted into a bodily cavity, duct, or vessel to drain fluid or administer a substance such as a medication.")
The U.S. continues to lead the North American market, while the APEJ market remains consolidated in India, trailed by China.
The study finds that the U.S., India, and China collectively account for nearly 45% of the overall syringes and cannulas market.
India's preeminence as a manufacturing hub for fast-selling medical consumables such as syringes and cannulas is not confined to Asia, but is worldwide. Fact.MR says, "In a move to cut down the cost of Indian syringe and cannula brands by more than 50%, a group of domestic manufacturers have decided on voluntary reduction of MRPs apropos of these healthcare consumables.
"This move rides the coattails of growing debate and speculation over handing the control of medical devices cost to the government. Additionally, the All India Drug Action Network (AIDAN) has demanded the government for immediate imposition of cost control on syringes and needles, along with medical devices notified as commonly used devices." China, it says, continues as the second-largest syringes and cannulas market in APEJ.
Future projections
Fact.MR says disposable syringes continue to gain ground due to biologics evolution and their "efficacy in easing management of larger patient pool, meanwhile cutting down possibilities of overfills."
Demand for reusable syringes, it says, remain in demand in animal-based research studies. "Volume sales of reusable syringes will record less than 2X slower growth, compared to disposable syringes sales through 2028," predicts Fact.MR.
Its research suggests a sluggish future market for cannulas, with increase in volume sales estimated at just 4 million units in 2018 over 2017, as compared to 572 million units of syringes. Worldwide cannula sales remain concentrated in variants featuring wings and port, with nasal cannula likely to record a relatively faster growth through 2028.
Automatic activation of safety mechanism during the needle withdrawal, coupled with prevention of accidental needle prick injuries to healthcare professionals, is a key attribute of cannulas with wings and port that have sustained demand in hospitals and clinics.