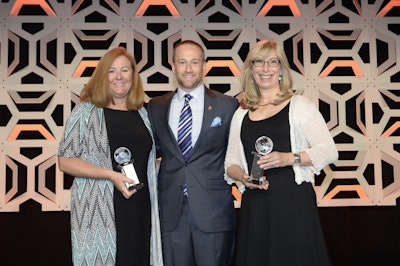 Americares, in partnership with the Healthcare Distribution Alliance (HDA), has presented its annual Power of Partnership Award to Endo Pharmaceuticals Inc. and Par Pharmaceutical, operating companies of Endo International plc, in recognition of their outstanding commitment to increasing access to health care around the world. Endo is among Americares' most longstanding supporters, providing pharmaceutical products for the global relief and development organization's emergency response work and ongoing health programs.
Americares Senior Vice President and Chief Marketing Officer Jed Selkowitz presented the award at HDA's Business and Leadership Conference in Phoenix, Arizona. Americares and HDA created the Power of Partnership Award 13 years ago to recognize medical manufacturing and distribution organizations that have shown exceptional dedication to expanding access to health care for disadvantaged populations.
"Endo is one of Americares' most generous and committed donors, supporting health care for disaster survivors and meeting the everyday needs in under-resourced hospitals and clinics around the world," Selkowitz said. "Together, we are saving lives and improving health for families affected by poverty or disaster."
Over the past 15 years, Endo's branded and generic divisions—Endo Pharmaceuticals and Par Pharmaceutical—have supported Americares by donating quality medicines for distribution to 83 countries.
"Endo is committed to delivering quality medicines to patients in need and we are proud to support the important work of Americares," said Paul Campanelli, President and CEO of Endo. "We are honored to receive this recognition from Americares and HDA as we share the goal of expanding access to care."
Endo's donations supply volunteer medical teams providing care to patients in desperate need and support safety net health clinics in the United States caring for uninsured and underinsured patients. The company is also a longtime supporter of Americares Emergency Response Program, which meets the health needs of disaster survivors worldwide. Recently, the company provided a critical donation of antibiotics to treat Hurricane Matthew survivors in Haiti.
"Time and again, HDA members have answered the call to respond to those affected by disasters and other emergencies—this spirit of generosity is at the heart of every 'Power of Partnership' honoree," said HDA President and CEO John M. Gray. "We are proud to partner once again with Americares to honor the dedication to care that Endo has shown for many years."
Companies in this article