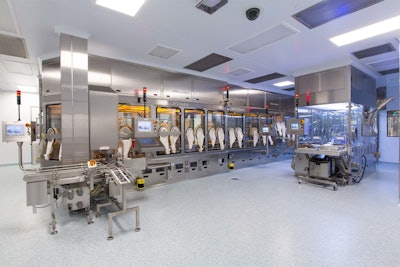 Cook Pharmica won the ISPE "Facility of the Year Award" (FOYA) for the "Flexible Filling Line" (FFL). The project was executed together with Optima Pharma as a partner for filling, closing and isolator technologies.
The FFL consists of the OPTIMA MultiUse Filler, which was designed and developed especially for Cook's needs. The prize was awarded by the Internal Society for Pharmaceutical Engineering (ISPE) and fell under the category "Equipment Innovation."
Cook is a privately held contract development and manufacturing organization (CDMO) that provides biopharmaceutical companies with a one-source, one-location model for development, clinical or commercial cell culture manufacturing, formulation, parenteral product manufacturing and packaging. Bloomington, IN-based Cook Pharmica is a wholly owned subsidiary of the Cook Group, which includes Cook Medical, a privately held medical device manufacturer.
A special feature of the FFL is the ability to process different types of containers including vials, cartridges and syringes on one machine, instead of having three separate lines as in the past. Flexibility can also be seen in the dosing systems (peristaltic pumps and time pressure) and the container sizes that can be processed on the line. The implementation of robotics and automation to maximize flexibility makes it the "first of its kind," according to the selection committee.

The line is implemented by Cook Pharmica for production and clinical manufacturing. Dosing systems help in product savings, with several product paths available to make the best use out of filling, closing and freeze-drying functions. The line is designed to process oxygen and light-sensitive products.
ISPE is a not-for-profit association serving its members by leading scientific, technical and regulatory advancement throughout the pharmaceutical lifecycle. It is committed to the advancement of the educational and technical efficiency of its members.
Companies in this article