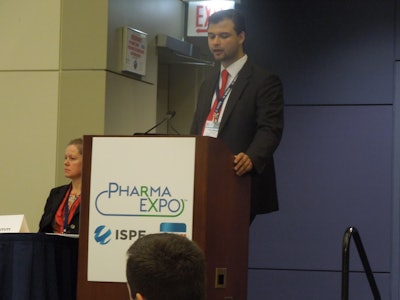 As biosimilars, biologics, orphan drugs and personalized medicines advance therapeutic treatment options, they also drive demand for greater processing and packaging flexibility.
"These trends typically involve smaller batch sizes, smaller patient populations per drug and demand greater speed to market with faster time to the patient," explained Dena Flamm, Product Manager at Bosch (www.boschpackaging.com). Flamm and her Bosch colleague Florian Kauder, Project Engineer, discussed "Considerations for Implementing Single Use Filling Systems." The Nov. 7 presentation was given during the Manufacturing Operations Track program at Pharma EXPO's Processing & Packaging Conference and Tradeshow, a joint venture of PMMI (www.pmmi.org) and ISPE (www.ispe.org)..
Single-use technology has been used in upstream production processes for years, said Flamm. "But only in the last seven to eight years has it become available for final fill/finish operations. This was an important, but missing piece of the puzzle for the drug."
She pointed out a select number of packaging and processing suppliers producing pumps and equipment, as well as the materials and components required for a single-use system.
Flamm and Kauder noted that Bosch partners with different companies, including Sartorius Stedim (www.sartorius.us) to provide thousands of potential setup possibilities, all with fully validated systems.
Justifying financial return on investment for a single-use system requires customers examine multiple factors and understand what types of materials they want (double or triple bags, types of tubing, etc.), the types of pumps and where they will be placed (within the isolator, outside of the machine, etc.).
Said Kauder, "Some costs may be more than traditional approaches, but it's important to understand that overall total cost of ownership is cheaper."
In the dual presentation, the Bosch speakers pointed to the following benefits from running single-use systems, including the following:
• Easy to use
• Easy to create multiple products in small batches
• No need for cleaning validation
• A familiarity with packaging materials
• Reduced time to market and time to patient
• Reduced use of water and need for cleaning, reduced risk of contamination and greater operator protection
Kauder discussed two customer applications, noting the benefits of switching to a single-use system from more traditional approaches: reducing preparation time advantages from 42 to 10 min; low-cost cleaning validation and dismantling time from 30 to 6 min.
Bosch markets its PreVAS (http://boschpharma-blog.com/prevas) system, which was installed at a Novartis facility in Switzerland. Another was with an unnamed U.S. manufacturer that set up its system as an isolator using pumps on the inside. In this application, Bosch said the company reduced installation time from 42 to 8 min, shortened changeover times from three to one hour, improved fill accuracy, and reduced product loss/giveaway.
Companies in this article