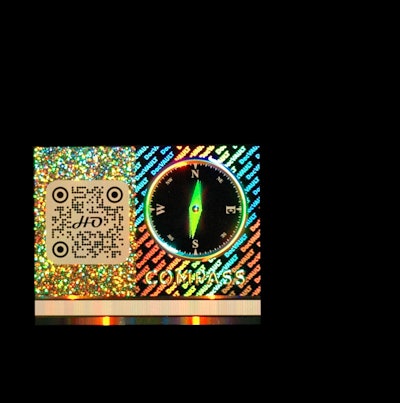 Global counterfeiting is driven by increased industrialization, advanced printing and reproduction technologies, the impact of the Internet, vulnerable supply chains, the power of consumerism, ineffectual law enforcement and lenient criminal penalties, among others.
Although the EU and North America will always be in the crosshairs of the counterfeiters, it's in the economic powerhouses of India and China where counterfeiting has become most prevalent and brand sanctity faces some of its biggest threats.
Holography has become a potent method for brand protection, and a frontline weapon in the ongoing war on counterfeiting. The technology can incorporate various data forms and product tracking information, as well as link on-pack product identification with supply chain management, market enforcement and forensic support services.
Under ISO 12931, which specifies performance criteria and evaluation methodology for authentication solutions,track and trace technology by itself is not a security solution. However, in conjunction with an optically variable device (OVD) such as a hologram, it becomes a potent security measure.
The technology offers track and trace features that can help users generate unique sequential, encrypted or random serial numbers, or identify and mark products overtly or covertly, either via special self-adhesive labels or directly onto product using a variety of print technologies.
The technology's capacity to incorporate other data forms and product tracking information will become increasingly important as technology pushes forward and the nature of anti-counterfeiting changes with the times. This enables holograms to be used for a wide range of authentication and brand protection roles, linking on-pack product identification with supply chain management, market enforcement and forensic support services.
In this way, the identity and distribution of goods can be controlled through a total system involving security authentication features, tracking mechanisms and investigative services.
An example of an interesting development in the area of track and trace holography comes from Holoptica, a U.S.-based embossed hologram producer. The firm has developed a new secure document verification and authentication product called DocVAULT that uses a new holographic feature called COMPASS. The combination of holography with a holoQR and compass is opening up new potential as an anti-counterfeit system for documents and products. One application is for smart labels, specifically an Internet of Things label (IoT) that combines anti-counterfeit holographic and other technologies with mobile authentication within a single product.
In the future, we will continue to see more innovative track and trace packaging technology. These developments continue to grow and will provide far-reaching benefits that will in turn, create even more interesting applications and expand further the technology's pivotal traceability role.
Editor's note: International Hologram Manufacturers Assn. IHMA includes 100 of the world's leading hologram companies and includes producers and converters of holograms for banknote security, anti-counterfeiting, brand protection, packaging, graphics and other commercial applications around the world.