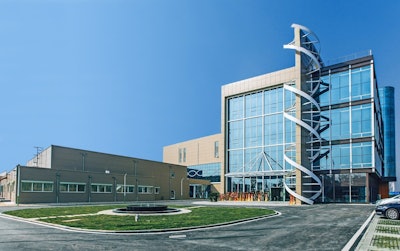 JHL Biotech (JHL) recently held a ribbon-cutting ceremony in Wuhan, China to introduce a biopharmaceutical manufacturing facility that is designed with single-use bioprocessing technology for late-stage clinical trials and commercial supply.
The move to single-use technology is an important trend in the global biopharmaceutical space, an industry segment that, according to Persistence Market Research, is expected to increase at a compound annual growth rate (CAGR) of 9.4% from 2014 to 2020, reaching $278 billion.
In addition, Frost & Sullivan's 2014 report, "Analysis of Global Biosimilars Market," also predicts significant growth specifically in China, reaching approximately $350 million in 2019, up from $44 million in 2009.
And, while local manufacturing in China is a more affordable way to provide modern therapies for deadly diseases like cancer, building new facilities can be expensive and complex. In biopharma, each step in the process—from biosynthesis to formulation and materials—must be validated to eliminate contamination risks. But, the use of disposable single-use technologies eliminates cleaning validation steps, reducing risk of cross-contamination, providing cost savings, greater flexibility to meet changing market needs, and reductions in a facility's environmental impact.
In some cases, it also represents a shift for the biopharmaceutical company from using batch processing to implementing continuous process manufacturing in new facilities. We addressed this issue in "The New Pharma Factory," an article that mentioned JHL's construction of a new facility in China—which is why this ribbon-cutting announcement caught my eye. In just 18 months, the plant is ready to go.
Working with GE Healthcare, JHL was able to complete construction quickly by using GE's KUBio prefabricated facility that is modular, portable, scalable, cost-efficient and compliant with current Good Manufacturing Practices (cGMP). Once the building modules were in place, JHL got started installing GE's FlexFactory system, which is single-use technology used to manufacture biologics, such as monoclonal antibodies (MAbs) and vaccines from cell culture to bulk product formulation.
According to Racho Jordanov, CEO and Co-Founder of JHL Biotech, the company's mission is to make quality medicines affordable to more people, especially in Asia where there is great need. "It was important to us to establish our scale-up manufacturing capacity in Asia with a manufacturing facility in China capable of producing biologics to a world-class standard," Jordanov said. "JHL's new facility in Wuhan has the same standardized GE FlexFactory technology as our existing site in Taiwan, which allowed us to quickly scale up to a capacity of 2,000 litres. JHL Biotech now has the largest volume of single-use cell culture capacity in Asia with the opening of our new facility in Wuhan."
If you're still not sold on these new approaches to producing medicine—perhaps for fear of reliability, validation complexity and process control— here are some benefits of single-use technology (SUT) according to the Bio-Process Systems Alliance.
Productivity: Workers spend much less time changing out disposable systems than they do cleaning and sanitizing a traditional stainless-steel system.
Cost: Without reusable parts to clean, there are no chemicals, water, steam, or other utilities used in the cleaning/sanitizing process. Also, a facility engineered for disposables is simplified, using less space, so the total energy consumption is reduced.
Environmental footprint: While the plastics in the single-use systems are usually incinerated, the footprint contributed by this is less than that contributed by wastewater, chemicals and energy used for cleaning traditional stainless-steel systems.
Manufacturing efficiencies: Single-use systems can achieve significant reductions in labor, faster batchturnaround and product changeover; single-use system modularity facilitates scale-up, speeds of integration and accelerates batch changeovers and retrofits.
Quality and safety: Single use offers reduced risks of cross-contamination, reduced risk of bioburden contamination, reduction of cleaning (and cleaning validation) issues and other benefits that can help satisfy the requirements of regulatory agencies.
Sustainability: Single-use bioprocesses systems can provide a range of environmental benefits beyond those of stainless-steel systems. Although single-use systems may generate additional solid waste, benefits include reduction in the amount of water, chemicals and energy required for cleaning and sanitizing as well as avoiding the labor-intensive cleaning processes required with stainless-steel systems.
And, from a recent roundtable published in the American Pharmaceutical Review, here are some things the experts say you need to consider before making a move to single-use systems:
• Qualify at least two vendors for each unit operation of your processes to ensure security of supply chain and price.
• Consider using "universal controllers" for each unit operation to facilitate the interchange of bioreactors, filters, and chromatography columns.
• Approach a single-use system'simplementation with an eye towards the lifecycle of the process they are intended to serve. For example, are they scalable and appropriate for clinical trials and ultimately a production environment? Is the supplier of the single-use technology capable of supporting as much from a quality and supply chain perspective?
• A full audit of the supplier is highly recommended.
• Storing single-use technology takes a lot of space. Ensure the facility has sufficient warehouse space to accommodate all necessary large bags, tubings, cartridges, etc.
• Most pharmaceutical drugs are chemical formulations as compared to biological drugs that are proteins. The chemical compatibility of the formulation with the single-use film (bioprocess container) as well as the product contact time/conditions are the most critical to consider in the adoption of single-use technologies for a pharma company.