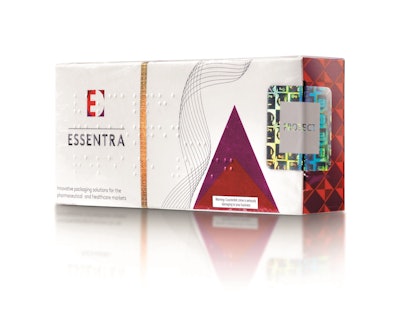 Counterfeit products pose a pervasive and complex challenge for businesses and consumers around the world. The threat is very real in any industry, but it's particularly dangerous in the pharmaceutical industry. Consumers who unknowingly take fake drugs aren't just paying for something that's not authentic—they're putting their health, and even their lives, at risk.
Unfortunately, the problem is widespread, with counterfeits making up more than 10% of the global medicines market, according to U.S. FDA estimates. In some areas—such as developing countries of Africa, as well as parts of Asia and Latin America—almost one-third of medicines on sale can be counterfeit. Despite the scope of this challenge, there is hope: Packaging innovations and a layered approach to security and authentication can protect both consumers and pharmaceutical companies.
Counterfeit growth drivers
With so much at stake and with today's advanced technologies at our disposal, how does this problem persist?
For one, black market trade and e-commerce give criminals direct access to potential customers around the world and make counterfeiting difficult to fight. Plus, criminals have become increasingly sophisticated. Among the factors they use to their advantage:
1) A complex supply chain
The supply chain for pharmaceuticals is global and increasingly complicated. While this presents opportunities for cost savings, there is also increased opportunity for counterfeiters to infiltrate the system. To combat this, all stakeholders must focus on having proper protocols in place to better monitor and maintain the integrity of the supply chain.
2) Illegal e-commerce sites
While many legitimate online platforms exist, the Internet has given criminals easy access to consumers. Rogue Internet pharmacy sites are proliferating, making it more difficult to track criminals and their products down. Estimates suggest the problem is sizeable: The U.S. National Boards of Pharmacy reviewed approximately 10,000 sites, and only 3% were found to be in compliance with pharmacy laws and practice standards. Meanwhile, the European Alliance for Access to Safe Medicines estimates that 62% of medicines bought online are fake.
3) Sophisticated counterfeits
Criminals are doing everything they can to make their products look as much as possible like the real thing—and they're getting very good at it. After all, they face a relatively low risk of punishment and a high potential profit. The result of their efforts? To many consumers, the differences between an authentic drug and a fake are indiscernible.
4) Lack of coordinated enforcement capacity
Addressing counterfeiting will require enough enforcement capacity across the industry, and unfortunately, that capacity currently is lacking. To help enforcement agencies make their efforts simpler and less time-consuming, governments and businesses must make the issue a top priority. In addition, these governments and businesses must work together. Because it is impossible for governments today to monitor all exports and imports of goods, only a joint effort will yield a truly effective solution.
A multifaceted approach
With a more complete view of the challenge in mind, what can the industry do about counterfeiting?
Serialization, as promoted in the EU Falsified Medicines Directive, does not offer a complete solution, as coding alone is not authentication. Coding initiatives thus far have focused exclusively on digital methods and overlooked physical protection opportunities.
Training and enforcement methods, as well as the consumer's role, must also be considered. Tamper verification will allow consumers to check for themselves if a product has been tampered with. Indeed, by empowering the patient, the industry could help raise awareness on the issue.
To be most effective, the industry must take a "layered" approach to security and authentication. Such an approach involves using overt, covert, and forensic features, combining both physical and digital attributes to deliver enhanced protection.
Overt technologies enable instant authentication through visual inspection, and most commonly feature holographic devices and color-shifting inks.
Covert solutions, such as microtext and microscopic tagging, rely on technologies such as infrared and ultra-violet inks and are difficult to detect without specialty equipment. Forensic features, which include molecular markers and biological tracers, offer a further layer of authentication and can be identified only with laboratory equipment.
Using all of these tactics together would help businesses throughout the supply chain, as well as consumers, identify and address counterfeit medicines. Opportunities for counterfeiters to produce or insert fake goods into the supply chain would be greatly limited, if not entirely eliminated.
Author Ian Lemon is the Global Category Manager for Healthcare & Personal Care, Essentra. Essentra is an international supplier of specialist plastic, fiber, foam and packaging products with four Strategic Business Units: Distribution, Specialist Technologies, Health & Personal Care Packaging and Filter Products.
Companies in this article