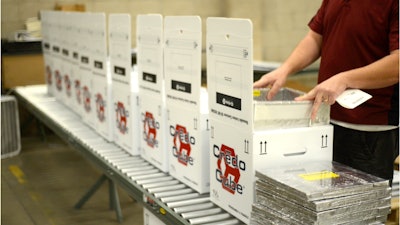 From the safe arrival of temperature-sensitive biologics to the quality of pharmaceutical products, the ability to prevent temperature excursions not only means the difference between profit and loss, but also life and death.
As a result, preventing and reducing temperature excursions is among the most common objectives from customers looking for thermal protection packaging. However, protecting payloads from temperature excursions isn't the only pain point customers look to solve when evaluating temperature-controlled packaging.
Three priorities customers have when making cold chain packaging purchasing decisions include ensuring regulatory compliance, reducing overall costs, and establishing cold chain lanes in emerging markets.
Ensuring regulatory compliance
Increased regulations published by the European Union in its 2013 GDP Guidelines are relevant not only to those companies based in Europe (the E.U. is the largest producer of pharmaceutical products in the world, and a net exporter to the U.S. and elsewhere), but also anyone looking to do business globally.
In order to ensure successful cold chain lanes, manufacturers and others in the medical and pharmaceutical industry must ensure that shippers are compliant with global industry standards and recommendations such as the U.S. Centers for Disease Control and Prevention, the Parenteral Drug Association (PDA), the World Health Organization (WHO), the International Air Transport Association (IATA), the International Safe Transit Association (ISTA), as well as the E.U.'s strict GDP, quality assurance, and health and safety standards.
Manufacturers of temperature-sensitive packaging can help customers meet these standards by providing a range of thermal tests and qualification processes to ensure that packaging solutions meet regulatory requirements.
For example, Pelican BioThermal's global manufacturing and testing locations include full-service ISTA-compliant certified thermal testing labs, calibrated environmental chambers, and other equipment to ensure global regulatory compliance.
Reducing overall costs
As in any area of business; organizations seeking thermal protection packaging also seek to reduce overall costs. Cost-effective packaging and shipping solution choices make a big impact on cost reduction.
Shippers with less weight and greater volumetric efficiency can offer financial advantages of lower transport cost, as a result of less shipping weight. In addition, reusable cold chain packaging, such as the Crēdo Cube™, help reduce cost per use. Selecting a shipper with greater payload capacity can also assist in reducing overall cost.

Establishing cold chain lanes in emerging markets
Research conducted by Healthcare Commerce Media Corp. in its BioPharma Cold Chain 2014 Sourcebook predicts cold chain logistics spending will expand from $8 billion in 2014 to more than $10 billion by 2018.
The biggest drivers of cold chain logistics growth over the next few years will be the continued development, approval, and market penetration of biotechnology-derived drugs, and the expansion in both usage and production of these drugs and other cold chain products in emerging markets. Asia is expected to account for the largest regional share, with more than $1 billion of cold chain growth through 2018.
Expanding into emerging markets can be especially challenging when temperature-sensitive, high-value payloads are involved. Globally networked manufacturers and marketers of thermal protection packaging can provide valuable guidance regarding the complex global life sciences supply chain in emerging markets.
A global network of manufacturing and asset optimization services, in addition to close partnerships with third-party logistics organizations, are just a few of the ways to guide customers seeking to establish integrity in emerging markets.
Although preventing temperature excursions is not the only thing those looking for temperature-controlled packaging consider, it does impact all other considerations. As "big pharma" and biotech companies look to establish a foothold in emerging markets, reduce costs, and comply with stricter regulations, they can first look for temperature-controlled packaging that achieves the most basic goals: high performance, reliable thermal protection, and cost reduction.
Author Kevin Lawler is Vice President of Sales at Pelican BioThermal, with more than 25 years of sales leadership experience. Prior to joining Minnesota Thermal Science (now Pelican BioThermal) in 2009, he was a leader in the growth of Computech Resources into a $35M technology and consulting services company, positioning it to be acquired by Logicalis, Inc. a global, $1B technology organization.
Companies in this article