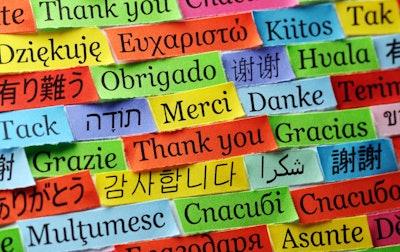 Clearly the U.S. FDA is expanding its role with more global inspections in foreign countries, which are tougher to do both logistically (more time-consuming and costly), and it is coming to light that there may be language barrier issues.
In one drug shortage session at the Sept. 8-10 Parenteral Drug Assn. (PDA)/FDA Joint Regulatory Conference in Washington, DC, an audience member complained that inspectors were "not requesting but demanding" hundreds of records be translated into English prior to inspection.
Clearly this will create a resource issue with foreign drug producers. The FDA does not concentrate on hiring multi-lingual investigators but said no one should be "demanding" more than a few documents translated during the inspection.
There is no regulation concerning languages or translations.
Drug launches in new countries pose challenges as well when it comes to capturing data on drug complaints and adverse effect reporting.
Some cultures and countries complain more than others. A "stoic" culture may not report as many issues leading the manufacturer to think there are few or no problems. On the other hand, certain countries "complain way more than others" (the U.S. more than EU, for instance), and could lead the manufacturer to think there is a bigger problem than really exists. Reports need to be analyzed carefully to take into account cultural differences.
The most common problems reported? The drug has had no effect on the patient, good or bad.
Also, one audience member mentioned using social media as a possible tool to report problems with drugs, but the speaker said it was not as promising as they had hoped. There really isn't adequate space for details, the best bet would be aggregating all the social media data to analyze trends, but this would prove very resource intensive. The current channels, MedWatch and FAERS (FDA Adverse Effect Reporting System) are still the best ways to complain about a drug.