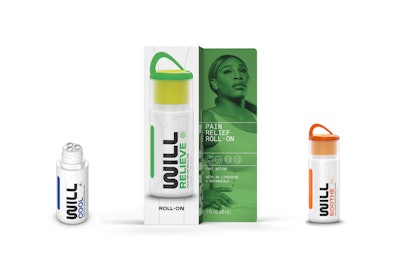 With Serena Williams in their court as co-founder, this active recovery line's packaging is designed for top notch performance.
Launched in December 2022, WILL PERFORM is offering a refreshing take on athletic recovery with muscle care and pain management. "Our brand is very much about the idea that recovery is bigger than just the reactive pain relief. Recovery should be something that we think about every day, especially for people like Serena, who are working incredibly hard and need to make sure that they can perform the next day," says Alexia Lundberg, Ph.D., chief product officer and biochemist by training.
As Lundberg explains, co-founders Eric Ryan and Serena Williams knew each other through her investments in OLLY (Ryan is co-founder of several recognizable brands including Olly, Method, and Welly). "They came together with a shared interest in redefining the athletic recovery category. Serena wanted to create something that felt authentic to her, with products she wanted to use. That, combined with Eric's idea that Millennials think about health and wellness as a lifestyle pursuit and want products to support that, led to the start of the brand," she says. Ryan brought in Hank Mercier as the CEO of WILL PERFORM and its third cofounder.
The new line consists of six products with different benefits for recovery—Pain Relief and Muscle Care with two roll-ons, three lotions, and a spray format.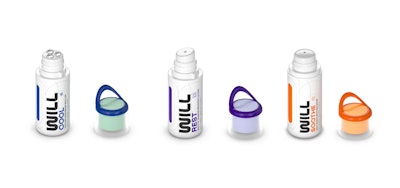 WILL Relieve Pain Relief Roll-on and Spray contain 4% lidocaine and botanicals in a thin, gel-like formula that is delivered by a triple rollerball system in a 3-oz bottle and a 4-oz aerosol, respectively.
WILL Cool Cooling Pain Relief Roll-on contains a blend of menthol, camphor, and botanicals in a thin, gel-like formula that is delivered by a triple rollerball system in a 3-oz bottle.
WILL Rest Nightly Muscle Recovery Lotion is an emollient lotion with lavender and geranium to help with calm and sleep. It also contains magnesium and Vitamin D and is delivered in a 3-oz squeezable bottle with an angled applicator for a hands-free delivery option.
WILL Soothe Daily Muscle Soothing Body Lotion is a lotion with a viscosity that allows for easy application and massage. It contains magnesium, ceramides, and Vitamin E to help restore skin and muscles daily and is delivered in a 6-oz squeezable bottle.
Launched in late March, WILL Relieve Pain Relief Lotion contains 4% lidocaine and botanicals in a creamy lotion formula that is delivered by a hands-free angled applicator in a 3-oz bottle.
Entering the pain relief and muscle care categories, WILL PERFORM is combining efficacy with modern aesthetics and ease of use. All of the formulations are intended to have a high level of efficacy and an elevated product experience, with a focus on feel, smell, and delivery. Lundberg explains, "Recovery and rest are obviously top of mind for professional athletes, but for a lot of people they're not. The Rest and Soothe lotions are our introduction to what we call Performance Care and is a mindset shift in thinking about recovery and performance daily, intended for day and nighttime use."
Of course, certain benefits help fit a new product into a familiar consumer routine. With many women used to applying lotion after a shower, they added ceramides and vitamin E to the Soothe lotion for antioxidant and skin barrier protection, along with magnesium for muscles.
Reducing the stigma of pain relief and reaching women were key goals. "With traditional pain relief products there can be an association with 'You're older, so you hurt.' We also talked to a lot of women as we were designing this brand, and no woman thinks that there's a product in this category that is made for them," Lundberg says. "So that's the other piece. We want to reach every athlete, but there is a miss with women in this category and we want to make sure we're speaking to them. This is one of the reasons our cartons feature images of men and women."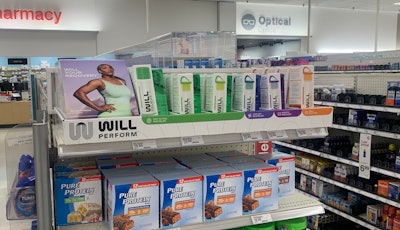 The product line is sold via WILL PERFORM's site, and in Target stores and online. They launched online on December 8th and in Target stores on endcaps on December 22nd. After some time at sidecaps, they moved in-line at the end of March with eye-catching displays with a picture of Serena and education about the products.
Challenges
WILL Perform had a number of challenges to solve for as they iterated on the industrial design and graphics.
Their three Relieve products in roll-on, lotion, and spray formats contain lidocaine. Lundberg explains, "It's a highly effective ingredient and allows us to create elegant products, but it requires a child-resistant [CR] cap. Child-resistant closures are a highly regulated area, so we knew we had to design something that could pass the required testing but still look unique. Not easy at all!"
They also wanted hands-free delivery options, so consumers didn't have to touch the products if they didn't want to. To accomplish this, they designed applicator heads to optimize the product experience they were trying to target. Maintaining a cohesive aesthetic across a range of formulations and delivery mechanisms was also top of mind.
Structural design and HDPE
For primary packaging of all products except the aerosol, they selected 100% HDPE bottles because they wanted to offer consumers the ability to recycle. "Rest is a very viscous lotion—squeezability was something we had to keep in mind. At the same time, we wanted recyclability," she says. "So we played around with blends of LDPE and HDPE. But knowing that that can pose issues with recycling, we leaned into HDPE. We worked on creating a package where we could thin out the sides in certain areas to make the sides squeezable, and then redistribute plastic in other places to create an element of squeezability that you need to get the product out, but that still lets us use HDPE."
Since three of their products in the HDPE bottles are over the counter (OTC) drug products, they needed to find a way to label them with all the required information on a small primary package. They chose a multi-panel pressure sensitive label applied to the back of the package to solve for this. All other artwork is screen printed.
"We added design elements like debossed grooves and pops of color to create an aesthetic that felt sporty and fun," she says. "When designing the packaging, we were very conscientious about how an athlete would use the product. Hands-free application and a loop to allow the product to be clipped to a gym bag are examples of how we kept the athlete in mind during industrial design process."
Child-resistant closures
With custom packaging, designing a child-resistant cap can be risky. "We knew we wanted to do custom packaging for most of the products, because we believe that design is one of the most impactful ways to build a brand. We did look at stock to make our lives easier, but we always landed back at doing something custom," Lundberg says.
In designing for child-resistance, they opted to bring in consultants who'd forged the path with other brands and had overcome similar challenges. "It took a lot of work to be able to land an aesthetic that we really liked, while also creating functionality. There was a lot of pilot work as we were iterating, testing at the same time. That was probably one of the biggest risks we had throughout the entire development process," she notes.
For the lidocaine products, the CR cap is a squeeze-and-turn mechanism, with a triple click. On either side is a small divot with instructions. Lundberg says, "Throughout the entire process, not a single kid was able to open it. To be honest, our biggest challenge when we were developing this was making sure adults could open it."
For the spray, they did opt for a stock child-resistant closure (CRC) because designing a custom aerosol bottle with a CRC didn't seem like a viable option.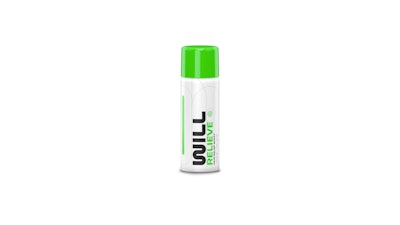 While supplier names could not be shared for their packaging or contract services, Lundberg explains that they use one contract manufacturer for processing and another for packaging. They sought a partner they could trust to produce topical OTC products and the ability to do CRC.
Convenient delivery mechanisms
WILL Perform sought hands-free delivery for a few reasons. "Serena brings that athlete's perspective to say, 'Here are things that I really like or don't like.' Many people don't participate in this category, either due to strong smells or they don't think about it because there's nothing that feels like it's for them. So we wanted to create something that people actually want to use," she adds.
The application of lidocaine and menthol benefit from being as hands-free as possible. Says Lundberg. "With lidocaine and menthol there are a few reasons why you don't want to touch them with your fingers. Not that it's bad to touch, but it can create other issues such as when you rub your eyes or brush your teeth. So we wanted the pain relief products to be hands-free."
With the Rest and Relieve lotions, they created an angled applicator that could be applied directly to the body so people can choose whether to apply via applicator or by hand. The angled head can also be used to as a massage tool.
Rollerball for massage
The roll-on Relieve and Cool products use a triple rollerball design to dispense product. "We liked the idea of a triple rollerball because not only does it look cool, but we felt it could also be a massage tool and it adds to the cooling effect of our WILL Cool Pain Relief product. With the single plastic rollerballs, there can be a lot of product that ends up coming out, and so the idea with the triple rollerball is you can use it for massage without soaking yourself in product. Also, some people feel a spray isn't as effective for targeted products. It's not necessarily true, but it's just a consumer perception," she explains.
Double cap and cohesive aesthetic
A key focus for WILL PERFORM was creating a cohesive product family across the various formats and delivery mechanisms that will look good at-shelf. In this case, the inner and outer cap worked in their favor. "It's a two-component cap and it works because it allows you to do both a CRC and non-CRC that look exactly the same from the outside," Lundberg explains. "The spray is the outlier only in the sense that it's not a plastic bottle, but we still have the same graphical treatment. We wanted to create an iconic look, where people are able to identify this brand by the way the package looks and create continuity across all products."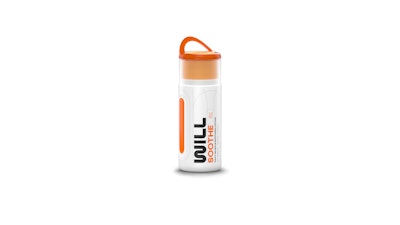 For portability, they sought to bring in texture and functionality so they created a loop on the cap made from TPE (thermoplastic elastomers), so the product could easily be strapped to gym bags for on-the-go use. The cap is composed of an inner and an outer component made from polypropylene for both form and function. "The translucent outer cap allowed us to show through to a pop of color on the inner cap, which was designed in a color that complemented the color of the TPE 'loop.' The two-cap system also allowed us to create visual continuity in the cap design whether or not the cap needed to be child-resistant," she says.
QR code for label placement
Though many are incorporating QR codes for communication with the consumer, in this case, its value is geared internally. "We worked with our contract manufacturer to design a system where the QR code on the back of the screen-printed bottle helps them place the label exactly where it's supposed to be. The code goes to our website but doesn't have a function from a readability standpoint, it's just for proper label placement. Our contract manufacturer said this is something that's pretty unique," she says.
Moving from five-panel carton to four
While they initially wanted to stick to primary packaging because they loved the bottles so much, they did opt to add a carton. This was a mix of considerations, mainly learned from consumers that they wanted education on the products. "When we were first thinking about it, we thought we'd be able to put all the drug facts and information on this tiny little bottle, and there was just no way to include that in addition to the educational content" she says.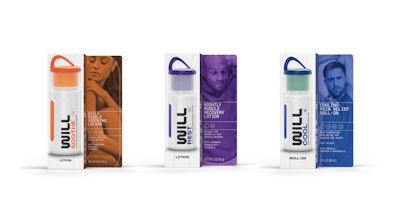 They designed their cartons to fit the bottles snugly with no inserts. Per Lundberg, "We right-sized the cartons for each bottle so there were no inserts used. It wasn't that challenging because three of our products are the exact same size, and then the aerosol and Soothe are almost the same size. So we ended up with just two carton sizes, which wasn't overly complex from an operational standpoint."
For launch on DTC (direct to consumer) and endcaps at Target, they chose a five-panel carton design and placed images of Serena—who lends much credibility—and everyday athletes on the extra panels. It was important for WILL Perform to show that these products were designed for every athlete, not just the best of the best.
As they move in-line at Target, WILL PERFORM will start to phase-in a four-panel carton. They'll continue to showcase images of all athletes on the cartons, but the front panel image will focus on the primary package. "We ended up cutting off that wing, and now we're going to be in a four-panel. We continue to learn and optimize, and with the four-panel the key information is right in front of you and more focused. All the feedback we've gotten… everybody loves the bottle itself. Maybe eventually we get out of a carton altogether—there's other things we have to solve for related to that," she says.
Launch and learn
With the recent launch, Lundberg says they're incredibly happy with their packaging: "With anything new there are opportunities to learn and improve and we will certainly do that, however, we are very proud of how of primary package turned out. A theme that runs through all of Eric Ryan's companies is to create a package that is counter-worthy. This helps with compliance, which is important for efficacy, and can take away the stigma that can be associated with a product."
In the case of pain relief products, Lundberg reiterates the stigma around using these products and differentiating their industrial and graphic design from the current pain relief category. "Many consumers don't enter this category, despite needing to, because they don't believe the products were made for them. Our packaging design and messaging is one way we can help change that. As much as we love our primary packaging, we felt it was important to use a carton to help the consumer understand what the products do and when to use them. This is particularly important for WILL Rest and WILL Soothe, which are all about daily muscle care and something that is new for many consumers.
"We love the look. But there are always things that you want to change. Our philosophy with any new brand is that the first year is 'launch and learn.' You put it out there, go with your gut, and figure out what you think is best, but quickly, you're going to learn," she says. "So when it comes to packaging, whether it's messaging or the fifth panel or other things, we just plan that we're going to be iterating, iterating, iterating… listening to customers and making adjustments accordingly."