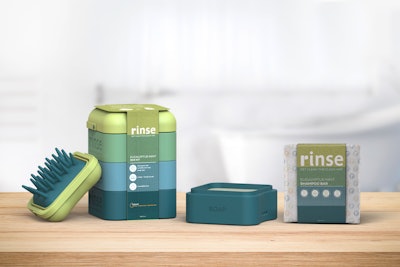 Twenty-one professional and six student winners were selected as recipients of the AmeriStar Award, a design competition in the packaging industry produced by the Institute of Packaging Professionals (IoPP).
A roster of 21 judges from various packaging industry segments evaluated this year's entries and examined each for product protection, packaging innovation and performance, economics, marketing, and environmental impact. Additional evaluations for 2022 coincided with introducing two new categories, design excellence, and sustainability.
Judges reviewed package entries across the 19 categories for professional and student awards and the program's prestigious Best in Show. Here, we profile winners from drug/pharmaceutical, medical device, and personal care product categories. See images of all the 2022 AmeriStar Award winners at IoPP's website.
Drug and Pharmaceutical
Vital Proteins - Collagen Peptides Powder Container from Selig Group has an interrupted thread closure that allows for material reduction and less distortion of the thread when stripped from the mold. This package not only has a tamper band but has the added benefit of a heat induction liner, providing two levels of tamper protection. The container, scoop, and cap are fully recyclable HDPE, and the induction seal is of a "clean peel" variety, leaving no unsightly or non-recyclable material on the container land area.
Medical Device
3-Web Pouch Design from SeaSpine, Inc. & Oliver Healthcare Packaging was designed with the end user in mind, offering a "multipack" configuration without increasing the shipping footprint. The surface treatment applied to the product exponentially increases patient safety and has sensitivities to contact materials and environmental conditions. The packaging system needed to accommodate these variables while providing a user-friendly sterile barrier that is easy to manufacture.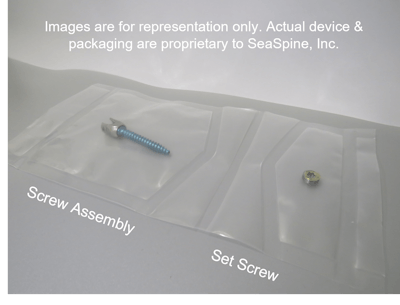 CapSure™ from Becton Dickenson-Surgery is used for a minimally evasive hernia repair procedure. With a miniature-sized retainer called SEEkeyMD®, this 1-g retainer allows additional support to the base tray to reduce sheet thickness from 40 mils to 30 mils. The 25% plastic reduction—equal to 295,417 16 oz. water bottles a year—and associated cost savings advanced the project.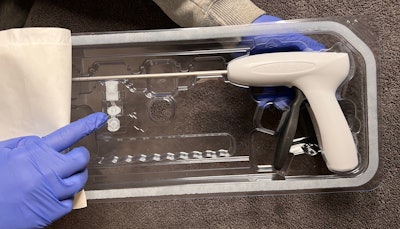 Sustainable Packaging
AmSky™ Thermoform Blister System from Amcor Flexibles Healthcare North America takes a unique approach to recycle-ready blister packaging by using high-density polyethylene (HDPE) in a proprietary formulation to create both the formed blister and lidding, demonstrating a new usage of existing materials. This packaging system presents end users with a seamless, single-stream option for end-of-life disposal.
Colgate Keep Toothbrush from Colgate-Palmolive has a handle that is the first of its kind, made with aluminum instead of plastic–eliminating 80% of the plastic waste from a typical toothbrush. Keep's 100% paper-based package allows consumers to recycle the packaging in a single waste stream and eliminates new plastic from being introduced into the environment. Colgate-Palmolive leveraged its expertise in thermoforming to deliver a package that is now fully recyclable at scale and operates well with established packaging lines.
Recyclable Mono-Material Pump – Future from Aptar Beauty + Home & Dermalogica is a fully recyclable mono-material pump consisting of a plastic spring that makes it possible to recycle the bottle and pump as one unit. Because this Future pump is made from polyethylene (PE) only, which aligns with the most common materials used to make bottles—PE and polyethylene terephthalate (PET), the complete packaging, including pump and bottle, is more efficiently recycled.
Health and Beauty Aids
Head & Shoulders CLINICAL Scalp Calming Treatment Tube from Viva Healthcare Packaging (Canada) Ltd. was developed to facilitate the precision application of its formula and provide a striking impact on the shelf. The applicator head is injection molded, then welded onto the cut shoulders of an injection-molded polypropylene tube, the lowest density of commodity plastics. The applicator is made from polypropylene, maintaining a mono-material design. The in-mold labels provide full coverage artwork from shoulders to end of crimp, 360 deg around the tubes.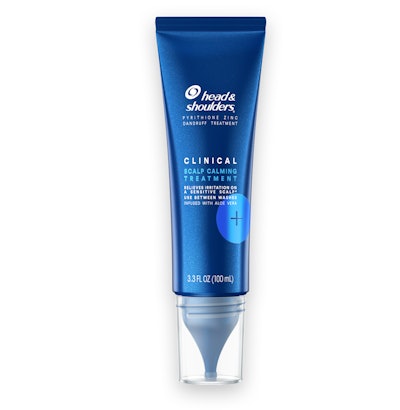 Cosmetics
Repeat Refillable Airless from FusionPKG has a POM-free pump engine that is thoughtfully integrated into its refill cartridge, allowing users to refill the product without exposing the formula to air and providing users with a new pump engine at every refill. When a user engages the pump, the actuator on the outer component connects to the pump engine on the inner cartridge to initiate dispensing and precision dosing.
Industrial/Commercial
TerpLoc® Automated Curing & Long-Term Storage Cannabis Pouch from Kinzie Advanced Polymers LLC dba Grove Bags takes a new approach to the idea of modified atmospheric packaging and allows industrial cannabis facilities to maintain up to 37% more Terpenes and up to 7% more THC by using the natural moisture of the cannabis plant to support the internal microclimate and keeps packaged product moisture loss below 1% variance.
Student Winners
OUCH! First Aid Kit from the University of Cincinnati is a first aid kit in book form. When opened, the left side is a home for tools, each in a designated pouch, and the right side is divided into pages of usage instructions on the top and items on the bottom. When the first aid book is closed, it takes the shape of a box to provide more structure and protection.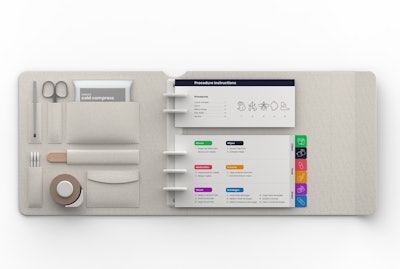 Rinse from the University of Cincinnati is a collection of all-gender, sustainable personal care products geared toward bridging the gap between products specified for a single gender, which will reduce the amount of both manufacturing and purchasing needs and result in a more inclusive and sustainable system.
See images of all the 2022 AmeriStar Award winners at IoPP's website.