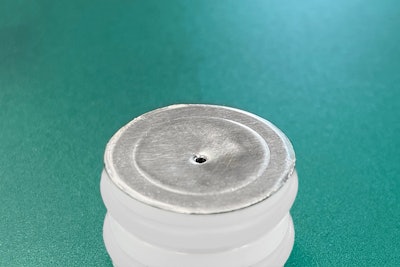 PAXXUS features its new AccuPierce pierceable foil lidding at PACK EXPO Las Vegas this week (Booth #SL6256).
Demand for diagnostics has been soaring, yet packaging diagnostic reagents can be challenging for a number of reasons:
Strong reagents can interact, or even attack, sealants used with traditional push-through foil options.
While providing strong barrier, the lidding should pierce easily. Devices require a high degree of repeatability.
There is a broad range of materials used to create the reagent wells, so lidding must accommodate the container while also being capable of hermetically sealing to narrow sealing surfaces.
AccuPierce pierceable foil lidding is a composite material consisting of a highly-controlled aluminum foil paired with PAXXUS' chemically resistant, high-barrier Exponent™ sealant—it allows for a clean, quick puncture requiring low force in sensitive testing environments.
Designed for accuracy in diagnostic applications, it can be used as lidding or as a component within the device itself.
At the show, Dwane Hahn explained one very large reason for the boom in diagnostics innovation. "COVID-19 has been for the diagnostic industry what NASA was for materials sciences. When we were trying to land someone on the moon, significant innovation and capital were needed to support the creation of mission critical materials simply because so many had not been invented yet."
While the emergence of COVID-19 is an undeniable tragedy, a by-product of the pandemic has been the influx of innovation and investment. "With COVID-19, the need to scale at an unheard-of pace without sacrificing accuracy presented many challenges. Of course, to solve these challenges, new ideas and concepts were generated as the inherent by-product. When this phenomenon occurs, the investment community takes notice and capital becomes available for startups and large established players alike. The significant investment will undoubtedly change the landscape for diagnostics and in particular the companies that fill the new expectation from consumers for both speed and at home testing capabilities," said Hahn.
To meet these changing dynamics and market needs, PAXXUS developed lidding that is suitable for use with many compounds including dimethyl sulfoxide (DMSO) reagents, organic solvents, ethanol, and isopropanol.
The product is versatile in that it is heat sealable to the most common reagent well materials— polypropylene, polyethylene, and COC—and is compatible with multiple sterilization processes. It is suitable "for DNase, RNase, and human DNA applications," the company reports. "This is not the case for the traditional push-through foil technology which is incompatible with some sterilization processes."
Companies in this article