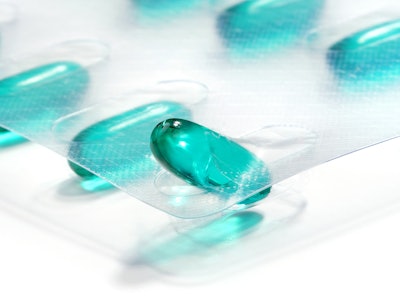 Major market segments have made a shift toward more sustainable packaging options which include recyclable and recycled content options. The Pharmaceutical industry is not immune to this movement and in fact have been challenging packaging suppliers for more sustainable options for blister packaging.
Klöckner Pentaplast (kp) has been working to provide its pharmaceutical customers with viable options to meet those goals. New on that front is kpNext™, kp's blister packaging film that is designed to be recyclable in the RIC (Resin Identification Code) 1 stream.
The company set out to create a PET blister that could be recycled in the most established stream globally, changing user behavior and the environmental footprint of the industry, says Tina Jächel, Product Manager, Pharma at kp.
For the entire package to be a recyclable solution, the lid stock must also recycle in the RIC 1 stream. With its partner Huhtamaki (HUH), a recyclable lid stock has been developed which solves that issue. The newly developed lidding material also has the same clarity as the blister film.
kp, together with Huhtamaki, is working on washable ink system for the lid stock, so recyclability is not compromised when branding and dosage information are printed on the lid. "You can also change the lidding film color to a certain extent," says Jächel. "For example, in the PET recycling stream, you can enter with either clear, clear-blue, or green lidding material. Any colors outside of these three standard color options would require a workaround to ensure recyclability."
The patent pending technology has been in development for three years, and it serves as a next step in kp's long-term sustainability journey. (The company's kpVantage® launched nearly a decade ago, was the first to market with a vinyl-free solution, representing an early step in the journey towards a recyclable solution.)
kp launched a new sustainability initiative this year, Investing in Better, which includes a sustainability roadmap for 2021 and beyond. One key target is making 100% of packaging recyclable by 2025, and as their Close the Loop site notes, "That means making it clear what can be recycled and how, while ensuring there are enough disposal and recycling facilities available."
A 'plug-and-play' blister
One of the goals in the development of kpNext™ was to ensure it was a "plug-and-play" offering. This means customers can use the same blister design, packaging lines, and equipment, and they do not need to slow line speed to accommodate the new material.
"Some sustainable upgrades require the customer to redesign the package to accommodate the new material being utilized. Many sustainable options are polyolefin solutions, like PP or PE, and often when you switch to these materials, there's an amount of redesigning and using additional materials to arrive at the same layout," explains Jächel. "We wanted to be sure companies didn't need to use additional materials or invest in new lines or new facilities because those are resource-intensive."
Alpha testing
kp has been working with multiple customers prior to the launch to gain market feedback, develop product features, work on consumer studies, and more.
Jeff Cole, director of marketing communications, pharma, health & protection, and durables at kp, says, "I think a lot of companies realize that if they're going to make the jump to a sustainable solution, they probably have to sacrifice something," so the aforementioned "plug-and-play" aspect has garnered positive customer reactions because it does not require end users to retool, slow production, or purchase new machinery.
As customer interest builds, ramp-up is happening more quickly than was initially expected, as most pharmaceutical projects are long-term. Jächel is already stocking material at strategic locations to produce samples for incoming customer requests.
Beyond pharmaceutical applications, the recyclable blister is of interest for nutraceuticals and consumer health products in which the consumer has more choices. Jächel notes that consumers may opt for the more environmentally friendly option if a given OTC medication—a cold and flu drug, for example—is from a brand known to employ a more sustainable packaging option.
Beyond materials
Of course, designing for recyclability and a package making it into the appropriate recycling stream are two different matters. "We're doing all this hard work to ensure it's a sustainable and recyclable solution, so it is imperative the blister is actually recycled," says Jächel.
That's why kp also has its sights set on industry collaboration to raise the range of Stream 1 recycling within the recycling industry. "As a producer, we are talking about much more than just product development. I'm working with different recycling groups and sorting companies, such as the EPBP and PFE, to find out what a collection system could look like, how we can develop infrastructure that works and really make an impact," she explains. "I think that's really integrating into our vision of 'investing in better.' It's not just having a sustainable product, but really using our position, our knowledge, and our connections in the industry to change things for the better."
Companies in this article
Videos from Klöckner Pentaplast Pharma, Health & Protection and Durables