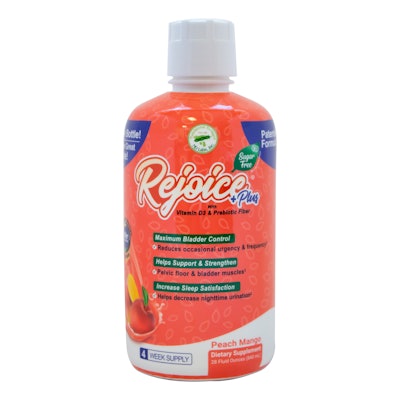 ND Labs Inc.'s Rejoice Plus® is a patented, natural bladder control supplement with five active ingredients to help strengthen muscles for optimal bladder control.
The New York-based company sought new packaging for its 28 oz. product that would boost patient adherence by adding a dosing cap to the top, eliminating the need for customers to find a tablespoon for measuring. Additionally, they wanted a shorter bottle to make it easier to fit on medical carts in nursing homes, hospitals, etc. as well as on consumer shelving.
Keeping the fill weight the same, the new HDPE bottle from Altium Packaging is shorter, wider, and sturdier with a heavier gram weight. The cap, sourced from Reliable Caps, is a buttress style cap that holds 1 oz.—the product's dosing size.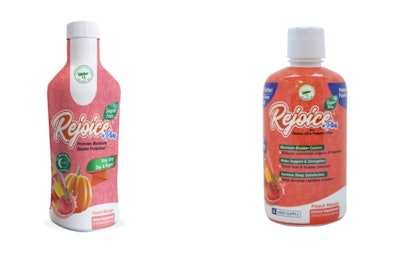 All design was performed in-house, and consistency was maintained in overall color and font choices between the previous and new bottles. On the front of the shrink sleeve, the company added indications, formatted as a checklist, so it is fast and easy for the consumer to determine the product's purpose. "4 Week Supply" is noted in a box on the front. The product is now patented and this has been added to the front of the label, as well.
The back panel makes use of shapes, textboxes, and contrast backgrounds to frame ingredients, clinical results, suggested usage, and more.