Deep Blue Hernia Mesh Strand Package for Sutures by Merrill's Packaging Inc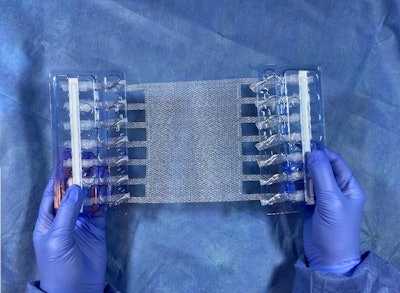 Prior to this device, doctors would have to thread several sutures through several needles for one surgery, taking a tremendous amount of time and risking puncture injuries. This package and device, of which the PETG package is part of, aids the doctors in effortlessly extracting the sutures and needles during hernia surgery by organizing the mesh suture strands and needles in a logical fashion, making the device and package of extreme value in the operating room. Extensions are tucked neatly to of the way until the surgeon needs them. A side benefit is the strands are much less destructive to the organs they are sewn into, distributing the weight over a wider area than traditional sutures. The packaging also protects the device by passing all ASTM testing and sterilization validations. Inspiration came from research at Bass Pro Shops and in the sewing industry.
Medical Device Card-Hoop Assembly and Packaging Optimization by Medtronic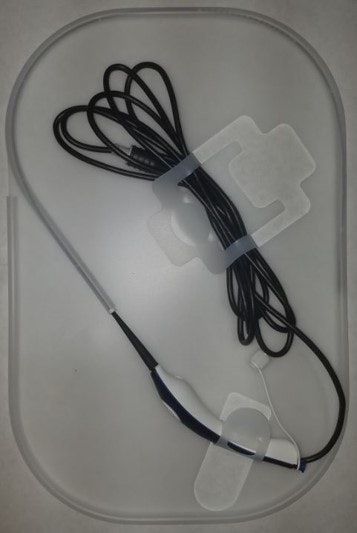 This innovative packaging system defines new frontiers in medical device packaging by integrating material, "poka-yoke" design and customer-focused features, enabling the package to act as a value-add to the overall therapy. ClosureFast™ is an industry leader in RF ablation treatment of varicose veins. Devices come in both 60 and 100 cm lengths, with packaging designed to accommodate either length. A single card-hoop assembly was created to contain and protect both 60 and 100 cm devices, with a 47% smaller footprint and an 80% reduction in weight. Additionally, a switch was made from the PET to Natural HDPE. The card-hoop assembly not only improves device protection and containment but offers the surgeon the ability to temporarily contain the device in the card-hoop assembly while in the sterile field.
Miltenyi CliniMACS Prodigy Set by Nelipak Healthcare Packaging
Nelipak Healthcare Packaging has created an innovative package for a blood management tubing set for its customer Miltenyi Biotec. The thermoformed carrier allows the product to be shipped securely with all the components assembled in the correct order, in the correct place, without damage during transit.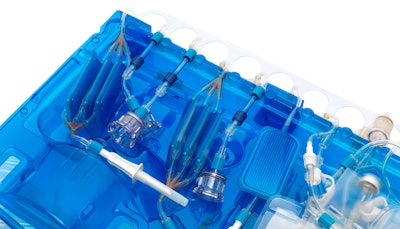 The packaging provides clear, error-free application of the tubing set to the CliniMACS Prodigy Instrument speeding up preparation time between batches. A handle is integrated into the design, enabling a single person to remove the entire tubing set with either one or two hands. The parts that need to be removed before use have a different color than the other blister packs.
To view the full list of winners, including personal care, sustainability, and student winners, check out the IoPP website here.
PACK EXPO Las Vegas and Healthcare Packaging EXPO (Sept. 27-29, Las Vegas Convention Center) will reunite the packaging and processing community. With over 1400 exhibitors, no other event in 2021 will bring together a more comprehensive gathering of suppliers offering new products, technologies and solutions. Attendee registration is now open.
Companies in this article